Proxy Error
The proxy server received an invalid response from an upstream server.
The proxy server could not handle the request GET /html/tophatbanner.html.
Reason: Error reading from remote server
---
IBM_HTTP_Server at www.staples.com Port 443

Navigate to Top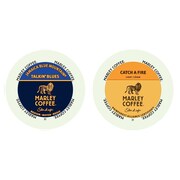 Marley Coffee Premium Bundle, 48 Count (BLB0033)
Item : 24117392
Marley Coffee Jamaican Blue Mountain Taste the mind blowing blend of floral aroma and full body with balanced acidity. The soft and mellow notes leave behind a lingering aftertaste in your mouth.
Marley Coffee Catch A Fire - The unthinkable blend of flavors of dark chocolate and chili peppers lends an unbeatable fiery taste to your cup of coffee to warm you up like never before.
Get warmed up with the right kind of coffee - Warm yourself up in the mornings or simply relax with the powerful punch offered by the coffees.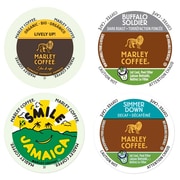 Marley Coffee Bobs Hits Bundle, 96 Count (BLB0032)
Item : 24117400
Marley Coffee Lively Up Espresso Dark Organic Dark roast coffee blended with the sweetness of caramel and the bitterness of dark chocolate. The smooth blend just makes your day.
Marley Coffee Buffalo Soldier - Coffee gets soulful when Mexican coffee beans are dark roasted to give it a full body and rich, earthy notes. Hints of chocolate cream enhance the taste and flavor.
Marley Coffee Simmer Down Decaf - Feel the punch of a strong, dark roast coffee without the caffeine. Relax your senses with the subtle notes of cocoa and cream in your cup of coffee.