Navigate to Top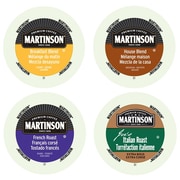 Martinson Classic Bundle, 96 Count (BLB0035)
Item : 24117380
Martinson Coffee Breakfast Blend - The breakfast blend coffee is made for those who love to rise up slowly and face the day. The perfectly roasted beans take you to the peak of freshness.
Martinson Coffee French Roast - Feel yourself relaxing in a cafe in the streets of Paris as you drink this deep roasted bold coffee with a delicious smoky finish.
Martinson Coffee House Blend - Fall in love with this unique blend of caramel notes and balanced flavor and roast which makes it a favorite among many. It is a treat for your taste buds.