Navigate to Top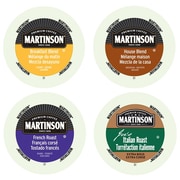 Martinson Classic Bundle, 96 Count (BLB0035)
Item : 24117380
Martinson Coffee Breakfast Blend - The breakfast blend coffee is made for those who love to rise up slowly and face the day. The perfectly roasted beans take you to the peak of freshness.
Martinson Coffee French Roast - Feel yourself relaxing in a cafe in the streets of Paris as you drink this deep roasted bold coffee with a delicious smoky finish.
Martinson Coffee House Blend - Fall in love with this unique blend of caramel notes and balanced flavor and roast which makes it a favorite among many. It is a treat for your taste buds.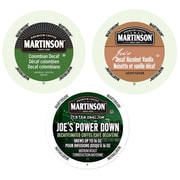 Martinson Decaf Bundle, 72 Count (BLB0036)
Item : 24117310
Martinson Coffee Colombian Decaf - A rich, satisfying flavor and a smooth winey finish give you the authentic taste of traditional Colombian coffee just without the caffeine in your cup.
Martinson Coffee Joe's Hazelnut Vanilla Decaf - A treat for decaf coffee lovers, this comes as a match made in heaven between sweet and smooth vanilla and sensational hazelnuts.
Martinson Coffee Power Down Decaf - This is the perfectly bold coffee with a medium roast which you can brew in a large cup without compromising on your favorite flavors.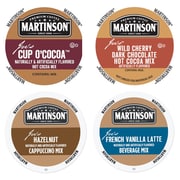 Martinson Mix Bundle, 96 Count (BLB0037)
Item : 24116590
Martinson French Vanilla Latte - If you need to indulge in coffee, its difficult to beat latte. This creamy latte is blended with sweet flavors of vanilla and espresso for a classic taste with a twist.
Martinson Hazelnut Cappuccino - Coffee lovers have a special soft corner for cappuccinos. This one has a smooth combination of strong coffee and buttery hazelnuts to give you the best coffee at home.
Martinson Hot Chocolate Hot Cocoa - Coffee comes hand in hand with richest cocoa to create this delightfully rich hot cocoa for you. It is a treat for everyone, young or old.