Navigate to Top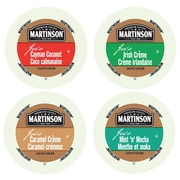 Martinson Flavored Coffee Bundle, 96 Count (BLB0034)
Item : 24117331
Martinson Coffee Caramel Creme - The coffee comes with a sweet taste of caramel that makes your beverage creamy and smooth. The distinct flavor of caramel creme reminds you of childhood sweetmeats.
Martinson Coffee Cayman Coconut - The light roasted coffee comes with caramel and coconut notes. Indulge in this coconut flavored coffee and enjoy the superb taste and aroma of this tropical treat.
Martinson Coffee Mint 'N' Mocha - This flavored coffee comes with a refreshing blend of mint and mocha chocolate. You can brew it cold for a refreshing drink.