Navigate to Top
Any cleaning task is easier with tools that get more done in less time. Microfiber sponges are ideal for many common cleaning jobs. With Staples® cleaning supplies, find the right sponge, cleaning pad, or brush for every room in the home or office.

Microfiber Sponges Use Two Surfaces for Maximum Functionality
Many microfiber rags and melamine sponges utilize two different surfaces. This makes them multi-functional cleaning tools. The microfiber side has thousands of tiny fibers. Dirt and dust cling to every fiber, pulling up the mess with minimal effort. The other side has an abrasive scrubbing surface. With this side, take care of sticky messes and tough surfaces. This minimizes the need to switch between different rags and sponges during a single cleaning task.

Reusable Microfiber Sponges Are Environmentally Friendly
Microfiber sponges and rags are the ideal replacement for disposable sponges and paper towels. They are much easier to clean than regular sponges. Simply put the sponge in the dishwasher on high heat when it becomes dirty. This gets rid of dirt and gets the sponge ready for another round of cleaning. Since microfiber cleaning tools can be used hundreds of times, they reduce waste and offer an environmentally friendly cleaning option.

Enjoy Easy Organization With Microfiber Sponges of Different Colors
Whether you're cleaning at home or work, avoid spreading germs between different rooms. Using the same cleaning tools for every room may spread bacteria and increase the risk of infection. Many brands produce microfiber pads in various colors. With this feature, users can select a color for each room or surface. It's an easy way to limit the spread of germs and keep everyone healthy.

How Large Are Microfiber Sponges?
Brands produce microfiber pads in a wide variety of sizes. Use larger pads for cleaning floors, counters, and other surfaces. Smaller pads are optimal for cleaning dishes and getting into narrow spaces. Some large pads measure 5.8 x 4.2 x 2 inches. The 2-inch thick sponges absorb more water, saving time during long cleaning jobs. Smaller pads are usually less than 1-inch thick, which makes them perfect for scrubbing and more detailed cleaning work.

Do Microfiber Sponges Scratch Delicate Surfaces?
One of the main benefits of a microfiber sponge is its non-scratch properties. Microfibers are microscopic, so they aren't abrasive enough to scratch surfaces like plastic and ceramic. Together, they are strong enough to handle the same spills as more abrasive materials.

What Are the Benefits of Microfiber Sponges?
Microfiber sponges come in many different sizes, making it easy to be ready for any mess. They clean more thoroughly than other pads and sponges and require less effort. This feature allows everyone to pitch in and help. The sponges are easy to clean and dry. Just wring them out after each use and put them in the dishwasher when they collect dirt. Many microfiber pads are also dryer-safe, minimizing the risk of bacteria growth. Since each fiber is so small, these sponges dry out more quickly than conventional washcloths and cleaning towels.
More
Less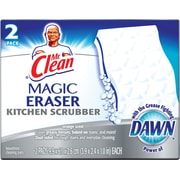 Mr. Clean® Magic Eraser
Item : SS1094038
Cleans three times more soap scum per swipe
Effectively cleans dirt and grime from a variety of surfaces
Cuts through grease and stains