Navigate to Top
Insect repellent is a necessary component when gardening; it helps control the insect population and keep plants in good health. You can find a variety of formulas in an array of formats including sprays, granules and lures. At Staples, you can shop for gardening supplies like those from Monterey insect control, whether you're a homeowner or a professional landscaper.

Determine the Type of Insects Present
The type of pests in any garden depends on the geographical location and the type of plants within the landscape. Because not all formulas work on every bug, it's important to discern which ones pose the biggest threat. Additionally, some formulas do more harm than good on specific plants. Proper research before application will ensure that you eradicate the insects without destroying the plants.

Consider the Size You Need for Effectiveness
You can find insect control products in varying sizes and formats. Sprays come in small bottles with a squeeze trigger for applying to a single plant at a time. Those who use them for commercial purposes can benefit from larger containers with a hose-like nozzle that covers more plants in a single application, or hook them up to a commercial sprayer. A single 32-ounce bottle can cover over 10,000 square feet. Pellets are easy to apply on the ground, and make excellent solutions for lawns, gardens and trees. You can buy pellets in various package sizes ranging from 1 to 40 pounds, or opt for a pallet of 2,116 pounds for professional use.

Choose Multi-Purpose Formulas for All-Around Insect Control
One of the easiest options is to choose a formula that's designed to kill multiple types of insects. Some of Monterey's products can kill over 100 species while still maintaining the health of the plant. In fact, you can spray these some of these as late as the day of harvest to kill any bugs that might be hiding in the plants before you pick them. Some formulas combine pest control with fungicide to combat two issues at once, providing an all-in-one gardening solution.

Set Traps and Lures to Determine Insect Repellent Needs
Monterey offers a variety of insect traps and lures designed to aid in determining when to apply repellent. Set them out early, prior to blooming season to trap the first bugs that appear. This method gives you a specific timeline to spray or lay out pellets to have the best results. Some traps have replaceable glue sheets so you can use them repeatedly while others are one-time use only. For indoor use to tackle flies, gnats and similar flying bugs, consider fly tape. It's a long strip of double-sided adhesive that traps the bugs permanently and is easy to dispose of.

Use Eco-Friendly Options Without Chemicals for Organic Gardens
Many Monterey insect control solutions have a base that's made with naturally occurring materials to promote organic gardening practices. If you're looking for a chemical-free option, consider sticky traps. They resemble leaves, trapping and killing bugs who land on them. Use them on all types of plants including fruits, vegetables and flowers.
More
Less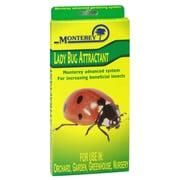 Monterey LG8510 Lady Bug Attractant
Item : 1260393
Product Type: Lady Bug Lure
Honey bee attractant are designed to attract beneficial insects to your garden
Lady bug attractant attracts ladybugs and lacewings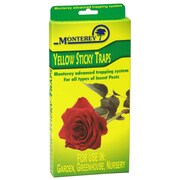 Monterey LG8800 Yellow Sticky Traps
Item : 1260364
Product Type: Yellow Jacket and Wasp Trap
Controls insects without any insecticide
For use on vegetables, fruit trees, and ornamentals to monitor and trap insects