Navigate to Top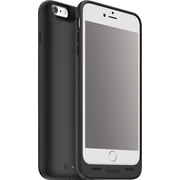 mophie Juice Pack Plus for iPhone 6 Plus, Black (45060SPR)
Item : 1597828
Talk time: up to 14.5 additional hours o Web browsing: 7.5 additional hours o Video Playback: up to 8.5 additional hours o Music Playback: up to 48 additional hours * Additional hours are estimated by comparing the mAh capacity of the juice pack battery to that of an iPhone 6 Plus battery
High impact protection featuring rubberized support points that enhance edge-to-edge protection while still fitting securely and comfortably in your hand
Powerful 2,600mAh rechargeable lithium-ion polymer battery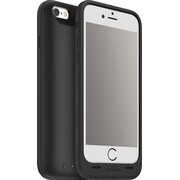 mophie Juicepack Air for iPhone 6 Black (44558SPR)
Item : 1508011
Charge on-the-go! Provides your iPhone 6 with more than 100% extra battery
With the mophie juice pack air, you can stay powerful! o Talk time: up to 14 additional hours o Web browsing: up to 10 additional hours o Video Playback: up to 11 additional hours o Music Playback: up to 50 additional hours *Additional hours are estimated by comparing the mAh capacity of the juice pack battery to that of an iPhone 6 battery.
High impact protection (Level 2) featuring rubberized support points that enhance edge-to-edge protection while still fitting securely and comfortably in your hand.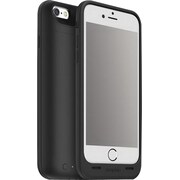 mophie iPhone 6 Juicepack Air, Black
Item : 1759297
Charge on-the-go! Provides your iPhone 6 with more than 100 percent extra battery
Talk time: up to 14 additional hours of Web browsing, up to 10 additional hours of video playback and up to 11 additional hours of music playback; up to 50 additional hours. Additional hours are estimated by comparing the mAh capacity of the juice pack battery to that of an iPhone 6 battery
High impact protection (Level 2) featuring rubberized support points that enhance edge-to-edge protection while still fitting securely and comfortably in your hand