Navigate to Top
Improve the aesthetic appeal of your home or office by adding a multicolor bench to your seating options. A colorful bench is both functional and decorative. Just as it is an excellent replacement for chairs, coffee tables, and ottomans, this furniture can also serve as the eye-catching centerpiece in a room. Staples® carries a wide selection of benches with brightly colored seat fabrics.

Consider Frame Build Material When Comparing Multicolor Benches
While there are some made of plastic, fiberglass, and concrete, most benches have wood or metal frames. The type of wood used for a bench frame determines the sturdiness of the furniture. Hardwood frames are stronger, heavier, and more suitable for traditional decors than softwood and MDF frames. If you want a sturdy wooden bench, look for one made from oak, mahogany, or teak. Medium density fiberboard produces lightweight benches and often comes in other colors besides brown.

Steel and aluminum are the two metals commonly used for bench frames. Steel does contain significant amounts of iron and is prone to rust. To avoid corrosion, furniture manufacturers use powder-coated steel. Powder coating makes the alloy rust-resistant and available in different colors. Aluminum is also strong and lighter than steel. It is rust-proof and suitable for both indoor and outdoor locations.

Choose the Right Multicolor Beam Seating for Your Office
Beam seating usually has a metal frame. This multi-chair furniture shares the space-saving design of a regular bench but provides separate seats for occupants. A single strong beam, usually made of heavy-duty steel, connects the seats. This is usually powder-coated steel. The seats of a multicolor beam chair can have different colors or the same pattern of multiple colors. To keep your visitors comfortable during long waits, choose beam seating with padded seats and backrests. If you regularly entertain guests in your reception area, get a model with a table attachment. Another feature to look for when shopping for beam seating is adjustable leveling glides. These minimize wobbling when placing the multi-chair furniture on an uneven floor.

Is Beam Seating Different From Tandem Seating?
Yes. Tandem seating has conjoined chairs while the chairs of beam seating do not touch one another. Tandem seating looks like multiple guest chairs linked together. Each chair shares its legs with the chairs on either side. Beam seating only has legs on its ends since its chairs sit directly on the support beam.

What Upholstery Fabrics Do Multicolor Benches Have?
A multicolor upholstery cover is usually made of leatherette or cloth fabric. Leatherette or faux leather looks like genuine leather but has a non-porous surface. This makes it spill-resistant and easier to maintain than regular leather. Cloth fabrics offer a wider selection of hues and colorful patterns. You can find multicolor upholstery covers made of cotton, polyester, linen, and high-pile fabrics.

Should You Get Storage Benches?
Yes. Storage benches make it easy to keep your home organized. Hallway and entryway benches usually have shelves to store shoes and umbrellas. You can keep clothes in bedroom benches and put books, magazines, and DVDs in units placed in your living room.
More
Less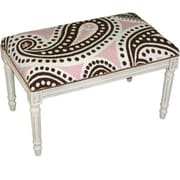 123 Creations Brown and Pink Paisley Needlepoint Bench, White (CREATE1109)
Item : 1874365
123 Creations was created to provide American artisan handcrafted home decor accents gifts and accessories to those looking for something different yet tasteful.
When you're in search of that feel good item or an inspiring gift we want to be your source.
The items in this collection are handcrafted by specialty artisans and each piece is unique.