Navigate to Top
A Netsis® router is an important part of a networking system as it lets users connect multiple devices to the internet. Whether used for the home or the business, Staples® carries a variety, all with different features to meet your networking needs. For the office, choose a tri-band router and for the home, one that offers wired and wireless capabilities.

Choose the Right Netis Router For the Office or Business
A router that offers superior performance and speed is a must-have when keeping an office or business running efficiently. Since both environments typically support several devices at one time, it is vital to choose one designed to handle the traffic. A dual-band or tri-band Netis wireless router is ideal when running multiple systems at one time as they operate on more than one radio frequency to eliminate lags. The router should also broadcast reliably over a certain distance to cover the entire office or business space. Many models have two or more omnidirectional antennas to cover a wider area. If the area is exceptionally large, a range extender may come in handy to ensure the entire building receives a wireless signal.

Netis Routers Enhance Home Networking
Netis routers keep users connected at home so they can surf the web, play games, stream media, and share files. For basic internet use or simply surfing the web, a single-band router is often sufficient. For more intense applications such as gaming or connecting multiple devices, a dual-band router is a better choice. Another option for the home is a model that has both wireless and wired capabilities. This enables users to enjoy wireless internet while providing the option of using an Ethernet cable to keep up with heavy bandwidth consuming applications such as media streaming.

A Netis Modem/Router Combo for the Home or Office
A modem/router combines the high speed of a modem with the enhanced features of a router. It offers an all-in-one solution for sharing connections across a network. Since the product is a single unit and it eliminates the number of cables needed, it is space efficient and easier to place in the home or office. A Netis modem/router combo is also easier to setup since it requires the configuring of a single device instead of two separate devices. The modem and router automatically communicate with each other to eliminate compatibility issues.

What Type of Security Do Routers Offer?
Most Netis wireless routers offer several layers of security including WPA or WPA2 encryptions. These protocols encrypt information sent over the network to protect private data. Other security features found on routers include firewall and anti-virus protection. To prevent unauthorized users from accessing the network, a router with password protection is optimal.

What Is the Purpose of a USB Port on Netis Routers?
Some routers have USB ports to allow for the connection of other peripheral devices such as printers or hard drives. This option lets you turn your printer or drive into a shareable one so all users on the network can access it.

What Is Traffic Shaping?
Traffic shaping is a feature found on some routers that lets the user regulate network data transfer to ensure specific devices maintain a certain level of performance. For instance, if using a laptop for work, you can choose to make it a priority.
More
Less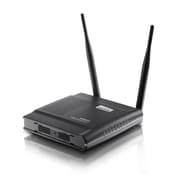 Netis® WF2415 300 Mbps Wireless N Gigabit Router, 2.4 GHz
Item : 238156
Up to 300 Mbps/802.11 a/b/g/n compatible/2.4 - 2.48 GHz ISM frequency band
64/128 bit WEP, WPA-PSK, WPA2-PSK, TKIP, AES, wireless MAC filtering, WPS security/4 x 10/1000 Mbps LAN ports
Features: Quality of service (QoS) assures the quality of bandwidth sensitive applications such as voice and video