Navigate to Top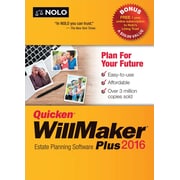 Nolo Quicken WillMaker Plus 2016 for Windows (1 User) [Download]
Item : 2408588
Easy interview format lets you complete documents at your own pace User-friendly legal manual answers common questions Quicken WillMaker Plus is the original will-writing software, written and updated regularly by Nolo's expert attorneys.
New Features Updated with new estate and gift law tax information New document: Letter to Survivors Improved property worksheet Free - Living Trust! Spare your family from the hassle and expense of probate court as they carry out your wishes.
Your Final Arrangements Plan a funeral or other ceremony and ease the burden on your loved ones. Describe your preferences for burial, cremation, memorials, obituaries, and more, and select someone to oversee your final arrangements.
Nolo Quicken Legal Business Pro for Windows (1 User) [Download]
Item : 2408589
"How to" checklists that help you through complex tasks free downloadable legal updates throughout 2016
Plan for Success Select the best structure for your business, obtain licenses and permits, buy or sell a franchise, file required documents, and minimize the chances of legal disputes.
Get Financing Identify the best prospects for loans from a bank or loved ones, understand the legal and tax issues of borrowing money from family and friends, determine the best structure for each loan, draft a loan request letter, receive guidance