Navigate to Top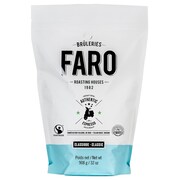 Faro Classic Authentic Italian Espresso Specialty Coffee (2lbs) Fair Trade Certified Organic Medium Roast Whole Bean Coffee
Item : 24116839
Arise & Aroma: One sip and you are transported to an Italian cafe, cobblestone underfoot, romance in the air, sleek style everywhere. Smoother than cream, fashionable to the extreme - magnifico, stupendo, bellissimo!
Blend & Believe: In the palm of your hand you hold a symmetrical blend of mystique, allure, and beauty. From atmosphere to selectivity to cultivation, many details blend as one to create this magnificent blend.
Essence & Espresso: Crema, the foam that forms on top of espresso, is the essence of a perfect cup. This esoteric bean is more than crema it is crema de la crema.