Navigate to Top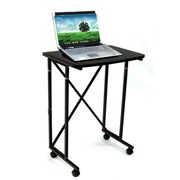 Origami 3in Laptop Trolley (DLON007)
Item : 1874643
It folds completely flat to stash out of the way anywhere when not in use - behind a door, between furniture, under the bed, anywhere! When you're ready to use it again, simply unfold the frame, flip the tabletop over, and roll it where you want to si
Opens and folds in 5 seconds.
Folds to less than 3 in. for easy storage.