Navigate to Top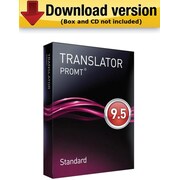 PROMT Standard Multilingual Translator for Windows (1-User) [Download]
Item : 188238
Multilingual translator translates emails, documents and instant messages for effective communication
Each download is for a single-user license, ideal for sole traders
Delivered straight to your computer through direct download, with no need to wait for a CD in the mail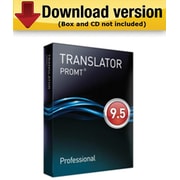 PROMT Professional 9.5 for Windows (1-User) [Download]
Item : 188237
We recommend PROMT Professional 9.5 for fast translation of: Documents in Microsoft Office 2000-2010 applications (Word, Excel, Outlook, PowerPoint) and Adobe (Adobe Acrobat, Adobe Professional).
Also recommended for fast translation of: Web pages in Internet Explorer, Mozilla Firefox, Opera and Google Chrome browsers, messages in ICQ, Skype, QIP, Windows live Messenger and texts containing specialized or industry lexicon and terminology.
Provides support of the most common office applications and file formats.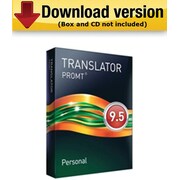 PROMT Personal 9.5 for Windows (1-User) [Download]
Item : 188236
High quality translation with no extra effort. The translator is already optimized for texts on the most popular topics.
Global dictionary update already built in. The dictionaries have been significantly expanded and grouped into the most popular topics.
low price PROMT Personal 9.5 saves you time and money. PROMT Personal 9.5 guarantees the basic-quality translation, which helps you understand the gist of the text and its relevance to you.