Navigate to Top
Memory cards are cartridges that store data and images from digital devices, including smart phones, cameras, palmtop PCs, PDAs, media players, and voice recorders. Flash card readers are devices that plug into the USB ports of computers to read the data on memory cards and transfer that information from the card to the computer or the information from the computer to the card.

Flash Card Readers Are Versatile
The two basic types of memory cards are flash memory and secure digital, or SD®, cards. Each type comes in various formats and sizes, with pin structures designed for compatible digital devices. Card readers have slots to accommodate the wide array of memory cards that fit different types of digital devices, or include slots for adapters to accommodate the cards. Some readers accept all generations of brand-specific memory cards, while others specialize in reading specific card sizes, including micro and mini memory cards.

Flash Card Readers Plug Directly into Your Computer
Memory card readers are plug and play devices. They connect directly to computers through the USB port and do not require software set up. They will begin processing the information as soon as you insert the memory card into the proper slot. Many card readers are designed to work with the most recent version of USB technology, offering higher data transfer speeds than previous versions, but they also work backwards, so you don't need to upgrade your computer's USB port to use the reader.

Can Flash Card Readers Transfer Data Back onto the Card?
Many memory card readers have read and write capability, so you can upload music, photos, and other data from a memory card, and then transfer files from your computer onto the card to make them accessible on the digital device. Many card readers have micro and mini-USB slots that accept cables directly from the digital device to transfer data back and forth from your computer. Other memory card readers let you access more than one card simultaneously, so you can read and write files while comparing them at the same time.

Are Flash Card Readers Compatible With Different Operating Systems?
The large majority of memory card readers work with all three major operating systems. Memory card readers work with the iterative PC versions from Windows XP and Vista to Windows 7, 8, and 10. They are compatible with Mac OS X and its sequential series 10 releases, as well as the multiple and varied distributions of Linux. Some readers are engineered to work with either PCs or Macs specifically, offering compatibility interfaces with the entire range of features in those operating systems.

What Are the Transfer Speed and Storage Ratings of Flash Card Readers?
Memory card readers transfer data at different rates of speed depending on the USB port version connected to a computer, measured in megabits per second, and on the speed rating of the card itself, specified on the outside of the card cartridge in megabytes per second. Memory card readers will accommodate the specific data-transfer speed ranges of USB ports and cards without bottle-necking. Flash card readers will also recognize the data files of memory cards regardless of how much data they store, whether the amount is in megabytes or gigabytes.
More
Less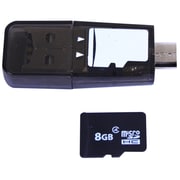 Plugable USB2-OTGTF USB 2.0 microSD Card Reader
Item : IM13V3721
microSD card reader is great for anyone capturing photos or video with a sports camcorder or aerial camera
Compatible with Android phones, tablets, notebook and desktop PC's
Interface: USB 2.0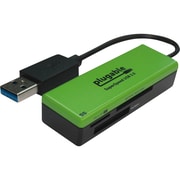 Plugable USB3-FLASH3 USB 3.0 External Card Reader
Item : IM11N4660
Compatible with SD, SDHC, SDXC, micro SD/T-flash, MS, MS Pro Duo, MMC, microSD, microSDHC, microSDXC, memory stick, memory stick pro, memory stick duo
Connectivity: USB 3.0
Form factor: External