Navigate to Top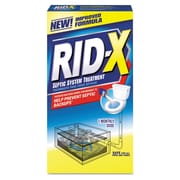 RID-X® Septic System Treatment, Unscented, 12/Carton (80306)
Item : RAC80306
Concentrated powder for septic system treatment to prevent septic back-ups.
Septic system treatment has a concentrated powder formula helps prevent septic back-up. Contains 100% natural active bacteria and enzymes that effectively digest septic system waste. Breaks down accumulated solid organic waste like grease, fat, protein, starch and paper. Use once per month to help keep septic systems operating smoothly. Safe for all pipes.
Package Includes: 12 9.8-ounce boxes per case.