Navigate to Top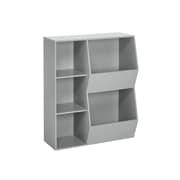 RiverRidge Kids 3-Cubby, 2-Veggie Bin Floor Cabinet , Gray (02-147)
Item : 2637386
Features two large veggie bins and three cubbies to provide ample space for storing an assortment of kid's toys, games, plush animals and more.
Clean, simple, and geometric design adds style and functionality to any room layout.
Secure to wall for added stability.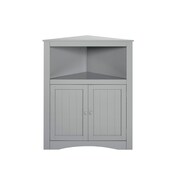 RiverRidge Kids 2-Door Corner Cabinet, Gray (02-141)
Item : 2637398
Includes one tall shelf hidden behind cabinet doors and one open shelf that makes storing and displaying larger toys simple.
Two front doors feature inset beadboard styling for a classic look that will compliment all style rooms.
Secure to wall for added stability.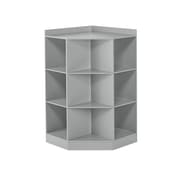 RiverRidge Kids 6-Cubby, 3-Shelf Corner Cabinet, Gray (02-145)
Item : 2637395
Features six cubbies, three angled shelves and a large open top shelf that are perfect for displaying and organizing toys, books, supplies, and more.
Anchor to the wall for added stability.
Cubby dimensions: 10.81"W x 10.68"D x 10.87"H