Navigate to Top
Quickly access memory cards from your PC by attaching a Sabrent™ card reader to it. Most computers lack memory card slots or have one that only supports a few flash storage media formats. With a card reader, you can easily give your PC the ability to read different memory cards, transfer files from, and write data onto them. Staples® carries a wide selection of these devices from Sabrent and other computer accessory brands.

Choose Between Internal and External Sabrent Card Readers
Memory card readers are available as external and internal devices. An external reader connects to the USB port of a computer. It is a removable adapter with multiple slots for different types of memory cards. An external reader is small enough to carry around and especially ideal to use with laptops or share with multiple computers. An internal unit is a more permanent installation. Usually reserved for desktop computers, it fits into the chassis of a tower PC and connects directly to the motherboard. Sabrent makes USB-powered card readers. Its external models come as USB dongles while the internal ones have USB cables.

Turn Your Memory Card Into a Flash Drive With a Sabrent Mini Card Reader
If you have a memory card lying around, you can turn it into a thumb drive by installing it inside a mini card reader. Mini card readers look like flash drives and have USB connectors to plug them directly into computers. Although they have fewer slots than full-size card readers, they do support popular memory card formats. These include SD, miniSD, and microSD cards. Sabrent also makes mini card readers that can double as dual USB thumb drives. These have USB and microUSB connectors. While the full-size USB connector is for computers, the smaller microUSB fits into the charging ports of smartphones and tablets. This arrangement makes it easy to transfer files between a computer and a mobile device that supports USB OTG (On-The-Go).

How Many Different Types of Cards Does a Sabrent Card Reader Support?
The number of memory cards supported varies from one card reader to another. Sabrent's mini card readers have two slots and support five different types of flash memory cards. Full-size internal readers have more slots and include models that support as many as 74 memory cards.

Are All Sabrent Mini Card Readers USB 3.0 Devices?
Yes. All the mini readers and most of Sabrent's full-size options have USB 3.0 interfaces. These are much faster than USB 2.0 readers and can deliver data transfer speeds up to 5 Gbps. USB 3.0 card readers are backward compatible with USB 2.0 and 1.1 ports.

Do You Need to Install Any Software When Connecting Sabrent Card Readers?
No. The brand's card readers are plug-and-play devices that do not require driver installation during setup. This means you can use them with any computer as long as it is running one of the supported operating systems. Sabrent readers are compatible with Windows® XP or higher and Mac® OS X® 10.3.9 or later. The brand's internal card readers also work with computers running Linux operating systems.
More
Less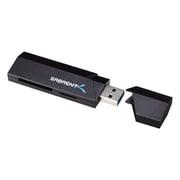 Sabrent CR-UMSS Mini USB 3.0 Flash Card Reader
Item : IM1YP5952
Flash card reader offers fast transfer speeds
Compatible with PC devices
Adaptable with microSD, microSDXC, microSDHC, miniSD, SD, SDXC, SDHC, multi media card and trans flash cards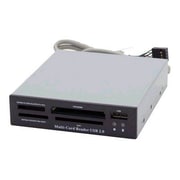 Sabrent™ CRW-UINB 7-Slot USB 2.0 Internal Flash Card Reader/Writer
Item : IM1GU0023
Fully-enclosed aluminum housing provides secure installation, while effectively dissipating heat, and two LEDs quickly confirm power and activity
Media slots: 7
Media supported: Compact flash type I, compact flash type II, memory stick, memory stick micro (M2), micro drive, microSD card, multimedia card (MMC), secure digital (SD) card, secure digital extended capacity (SDXC)