Navigate to Top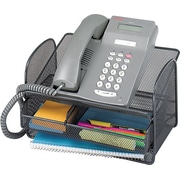 Safco®, Onyx Angled Mesh Steel Telephone Stand, 11 3/4 x 9 1/4 x 7, Black, Each (2160BL)
Item : 816035
Angled steel telephone stand has storage drawer with removable divider and storage area.
Onyx™ mesh telephone stand's angled platform holds phone at just the right degree for quick and easy dialing and pick up. Versatile storage drawer features an adjustable, removable divider, accommodating phone books, notebooks, files, binders and more.
Package Includes: telephone stand.