Navigate to Top
With sitz baths, you can relieve discomfort in hard-to-reach areas. Designed for comfort and ease of use, these kits make it easy to care for delicate tissues at home or in a medical facility. Treat hemorrhoids, prostate problems, post-birth pain, or rectal issues using a sitz bath.

Convenient Fit
Sitz baths are designed to fit into a standard toilet bowl without slipping into the toilet or awkwardly shifting on the seat during use. Wide rims make it simple to sit comfortably on the bowl while lowering sensitive tissues into the soothing fluid inside the bath, so there's no discomfort when you're using one for long periods of time.

Easy to Use
Sitz bath kits that include the bowl, tubing, and a solution bag let you create your own fluid mixture each time you use the bath. A large-capacity solution bag provides a steady flow of solution into the sitz bath bowl, and you can easily hang the bag on the back of a toilet or on a dedicated freestanding rack where you can conveniently reach the clamp to stop the flow after you're done. Stock your bathroom with a sitz bath and a selection of incontinence products to make post-operative self care easier.

Reliable Design
Durable materials and a time-tested design ensure that using a sitz bath is an easy, mess-free process. Flexible tubing keeps the flow going throughout your bath, while transparent solution bags let you track how much fluid remains. Sturdy high-impact plastic seats and bowls hold up well to frequent use, so you can confidently use your sitz bath every day until the related issues have healed.






More
Less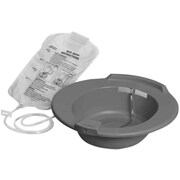 Medline Sitz Baths
Item : SS1102119
Latex-free
Sitz Baths Type
14" Rim to Rim, Bowl 10 3/4"x 4 H Basin Size