Navigate to Top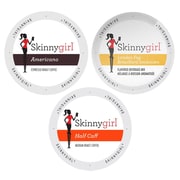 Skinny Girl Coffee Bundle, 72 Count (BLB0039)
Item : 24116764
Skinnygirl Coffee Americano - Inspired by classic espresso, this coffee offers you bold, dark roast flavors and a full body. Just brew it to please yourself over a cup of coffee.
Skinnygirl Coffee Half Caff - Your favorite cup of beverage is crafted to perfection with premium ingredients and new flavors just with half the percentage of caffeine.
Skinnygirl Indulgent Beverages London Fog Latte - This uniquely flavored latte is crafted from the perfect amount of black tea and milk and blended with the right amounts of honey and vanilla.