Navigate to Top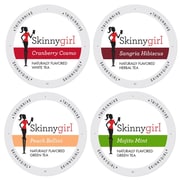 Skinnygirl Mocktail Bundle, 96 Count (BLB0038)
Item : 24116823
Skinnygirl Tea Cran Cosmo White Tea - Relax with a refreshing cup of tea that comes with hints of cranberry and sweet oranges. The premium blend of natural ingredients tastes best when cold.
Skinnygirl Tea Mojito Mint Green Tea - With natural mint and lime flavors mixing up this classic cocktail, this Mojito Mint Green Tea can be enjoyed both hot or cold.
Skinnygirl Tea Peach Bellini Green Tea - Discover a revitalizing side of green tea infused with the sweetness of fresh, juicy peaches. The new flavor is sure to leave you pleased.