Navigate to Top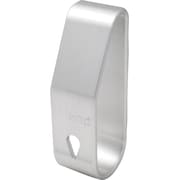 nHand - In Hand Tablet Holder/ 3 Way Stand-Powered by Fundable
Item : 1834165
nHand also works as a stand. When you set down your tablet, it also doubles as a 3-way stand, or you can even hang your tablet on the wall using the built-in hook feature. It's the simplicity of the nHand design that makes it so practical, yet highly functional.
When used as a stand, nHand can be positioned at three different angles 35, 85 or 45 degrees.
Ergonomic design comfortably fits any size hand using one of three soft memory foam inserts that is included with each nHand kit, and it works the same for right or left handed people. The smooth rounded edges of nHand ensure hours of comfortable use even in the most demanding conditions.