Navigate to Top
Stamina® Wirk products and treadmill desks provide a way to work out while accomplishing business tasks. Sitting for long periods can be damaging to a body, and standing desks coupled with treadmills and other workout machines make it possible to stay active while completing work on time. Staples® carries a selection of standing desk treadmills and other office equipment for the busy executive.

Considering the Types of Standing Treadmill Desks
Before choosing desk workout equipment, it's important to consider the desired type of exercise. There are two main types of treadmill desks to choose from. The integrated desk is a combination treadmill and desk built into one unit. This type of desk takes up a greater amount of space but is sturdy and excellent for the serious exercise enthusiast. An under-desk treadmill can be added to any type of standing desk because the unit is made separately. This model lets the user slide the exercise equipment out of the way when not in use, and it can be moved to several different stations to allow multiple people to enjoy the benefits.

Options for Stamina Products and Treadmill Desks
Stamina desk exercise bikes look like typical exercise bikes but include a built-in shelf for reading, using a laptop, or writing notes, and answering emails. A Wirk bike workstation lets you keep your lower half seated and moving while you meet with clients, talk on the phone, or work on the computer. Bike workstations with textured pedals prevent the feet from sliding off for increased safety, and most seats are adjustable so they can be raised or lowered depending on the height of the standing desk. Choose office desk exercise equipment that is comfortable to use yet sturdy enough for daily use.

How Do You Choose the Optimal Standing Treadmill Desk?
The biggest concern for a treadmill desk is the height. Most treadmill bases have a 5 to 6-inch step-up height. When on the treadmill, an individual's arms should be at a 90-degree angle with the workstation to avoid straining and shoulder pain. Consider the size of the treadmill to make sure there is enough room to move around the work area comfortably while maintaining a clearance of at least 3 feet. The treadmill should be quiet so it does not disturb others. Safety features like side rails offer stability, and an auto-pause feature will turn the device off during accidental falls.

How Long Should an Individual Spend a Day on a Standing Desk Treadmill?
The length of time spent on a desk treadmill depends on the level of physical fitness of the user and convenience. Like traditional treadmills, desk treadmills serve as a way to help get a user in shape and can be used as needed.

How Loud Is a Standing Desk Treadmill?
Standing desk treadmills are designed with noise levels in mind. When walking at speeds of one to two miles per hour, the noise from the treadmill should not rise above typical background noise. The loudest noise coming from a desk treadmill is usually the footfall.
More
Less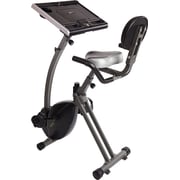 Stamina Wirk 85-2221 Bike Workstation
Item : 1759131
Chrome and black bike workstation enhances your contemporary decor scheme
Features a 17.25"W x 10"D work surface that allows you to accomplish tasks while you work out
Textured pedals keep your feet in place securely through each workout to provide a comfortable and safe workout experience