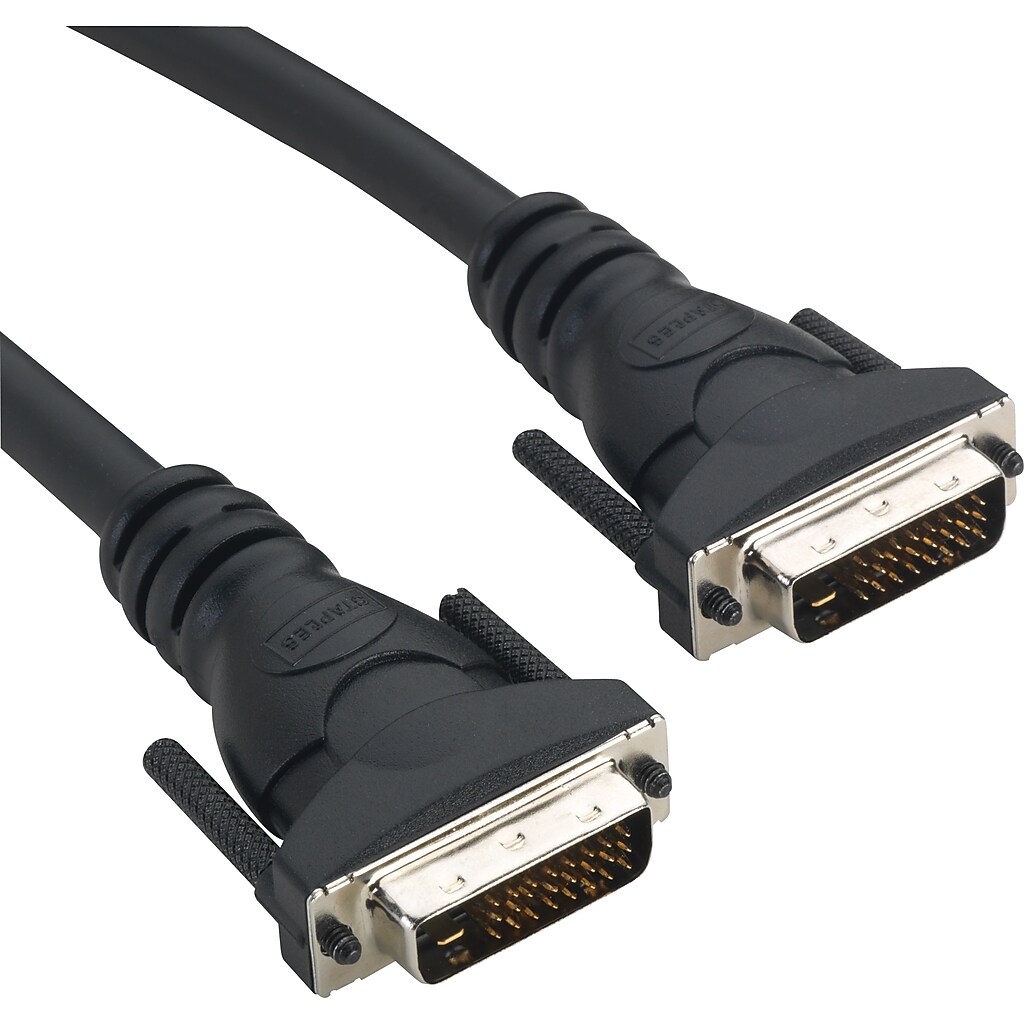 Staples 18768 DVI-D Dual Link 10' Video Cable, Black
Item #: 837568
| Model #: 18768
This item is out of stock for delivery
About this product
Staples DVI-D video cable is sturdy for a reliable connection
Connect with confidence with this DVI-D video cable. This video cable is 10 feet long so it is long enough to link a computer and monitor in a way that creates an attractive and functional work setting. This video cable's DVI display connectivity provides a dependable link between electronics so you can focus on the work that matters most. The metal and plastic components in this cable create a strong cable that performs admirably. With a well-crafted design, this cable has side pieces that hold it firmly in place for it to be a dependable addition to any work setting.
DVI-D dual-link video cable for display connection

Its 10 foot length creates hassle-free use without cumbersome wires

Work confidently with strong physical components

Twisted edges hold cable in place and prevent pulling

Connects your computer to your DVI display

10'
Use the Staples DVI-D video cable to connect your computer to any monitor. This cable is useful for setting up multiple screens on your desktop or laptop. Simply plug in the ends of this dual-link video cable to your computer and to the extra monitor for increased screen space. You can then work on your files in two different screens instead of having to jump between windows on the same desktop.

Connect Devices Without Moving Them
This DVI-D video cable is 10 feet long, so you can use it to connect devices that are on opposite ends of the room. The cable's length also gives you the freedom to wind it across corners. If there's any loose cable after connecting your devices, you can easily gather it into a coil and keep it out of sight behind a piece of furniture.

Increase Your Entertainment Options
Use this 10-foot DVI-D video cable to increase the entertainment options in your home. This cable supports digital video, so you can use it to connect your computer to a projector screen and set up an animated light show. Pair this light show with your favorite music to create a unique party setting. You can even connect your computer to your television to view a high-quality slideshow of your family or holiday pictures.