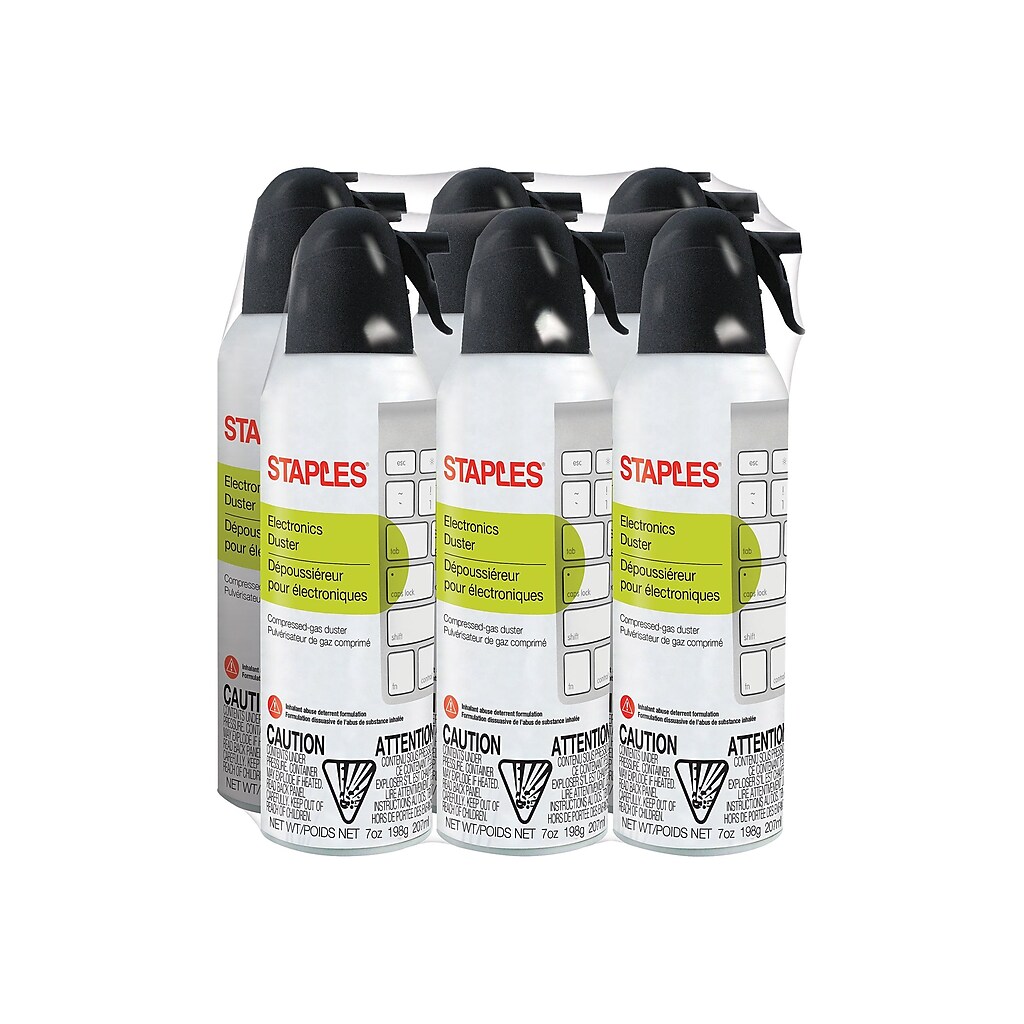 Staples Electronics Air Duster, Slight Ethereal, 6/Pack (SPL07ENFR-6)
Item #: 329861
| Model #: SPL07ENFR-6
This item is out of stock for delivery
About this product
Clean all the devices in your office with this Staples electronics duster, which comes in a convenient 6-pack.
Spray dust away from office keyboards, CPUs and laptops with this Staples electronic duster. The 7-ounce can of compressed air is easy to use; simply aim the can at devices, pull the trigger and remove everything from dirt and dust to crumbs. The powerful air jet gets into cracks and crevices, leaving electronic devices clean and undamaged. This Staples electronic duster comes in a 6-pack to supply an entire office.
Air duster is perfect for removing dust or debris from sensitive electronic devices

Odor/Scent: Bitterant

Form: 152a liquified gas

Has a 7 oz. capacity

Compressed gas duster is perfect for getting crumbs out of your keyboard

Contains six air dusters per pack
Keep electronic equipment clean without damaging any internal parts by using this Dust Destroyer duster. Spray the contents on hard-to-reach areas to quickly clear them of dust and debris, removing dirt and extending the life of your technology. A slightly ethereal scent keeps your office smelling fresh.

Easy to Use
Aim the duster at the area you want to clean, and squeeze the trigger to instantly shoot a burst of compressed air straight at your target. Watch as dirt and debris fly out of tiny cracks and crevices, amazing you with the cleaning power of this 7-ounce duster.

Convenient Packaging
Don't be afraid to use this duster daily since you can stock up with enough of this 6-pack duster to keep your office equipment clean for several weeks. The 7-ounce duster cans are slim and easy to store in a closet or desk drawer without taking up a lot of space.

Designed for Safety
Protect your valuable technology by cleaning it with this duster filled with safe liquefied gas. Avoid possible damage caused by liquid cleaners and rough handling. An added bitterant gives this duster an unpleasant taste to discourage its use as an inhalant.