Navigate to Top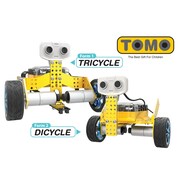 Tenergy Tomo 2-in-1 STEM Robotic Kit
Item : 2786428
Tomo Tricycle is an intelligent vehicle that can track lines, avoid obstacles, race and more.
Tomo Dicycle is a smart self-balancing two-wheeled vehicle that can roam around and avoid obstacles.
Tomo is an educational kit that teaches beginners (age 8+) about graphical programming, electronics and robotics through building and the use of smart devices.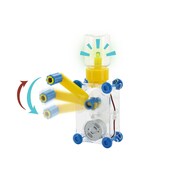 Tenergy Dynamo Lantern- STEM Educational Kit
Item : 2797280
Build a Hand-Cranked Generator: Kids can construct their own fully working generator that can light up a light bulb.
Easy-to-Build STEM (Science, Technology, Engineering, Math) Kit: No screws or tools needed to assemble the toy. Kids can easily build a dynamo lantern in 10-15 mins by following the included detailed instructions. Exercise for kids to develop and improve reading, following instructions, problem solving, and attention to details skills.
Learn As They Play: Kids can learn and understand how machines, generators and electricity works by seeing the result of lighting up a light bulb with their own hands. Fun educational facts are also included in instruction manual.