Navigate to Top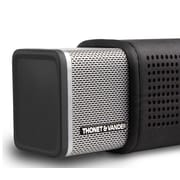 Thonet and Vander Frei Portable with 50 watts, 8 hour battery and shock proof case (FREI)
Item : 24127095
ENHANCED BASS: Bluetooth speaker with 50 watt peak power. Passive radiator optimizes low frequency response which offers a clear improvement in the quality and depth of the bass. Made with ultra-durable and lightweight cane lignin fiber to optimize the driver's performance. The upper suspension ring is made of rubber, allowing greater displacement sensitivity.
PORTABLE SPEAKER: Perfect for indoor use, or attach the shockproof sleeve (INCLUDED) for protection from damage during outdoor use. Built with a mesh cover to protect the drivers from damage and all kinds of harmful agents.
FRIENDLY CONTROLS: Controls include volume, play/pause, answer/hang-up, previous/next, mode (AUX or Bluetooth), power and can be controlled with a smart phone. Control panel included on side of speaker.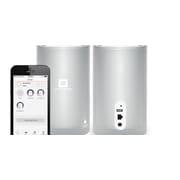 Thonet and Vander Multi Room Bluetooth Audio Hub allows you to connect 3 pair of speakers to one device (HUB)
Item : 24127099
INNOVATIVE TECHNOLOGY: The Thonet and Vander Bluetooth Audio Hub is the first Bluetooth router powered by Cassia Networks. Connect up to 3 speakers or 22 Bluetooth devices simultaneously for a powerful multi-room surround sound audio experience.
SEAMLESSLY connects to your Bluetooth enabled smart phones, tablets, and PC with the latest Bluetooth 4.0 technology
INCREASED RANGE-The Hub extends the normal Bluetooth range of your devices up to 1000 Ft. (in open air), or passes through up to 3 walls without issues.