Navigate to Top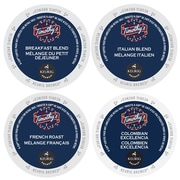 Timothy's Classic Coffee Bundle, 94 Count (BLB0045)
Item : 24116817
Timothy's Colombian Excelencia - This special coffee is inspired from the rhythm of the land it was born in. Feel the vibrancy of tropical lands with the bright acidity and the sweet, citrusy notes.
Timothy's Italian Blend Coffee - This smooth, light espresso blend gives you sweet flavors, full body and smoky undertones. This is the magic of masterful European roasting.
Timothy's French Roast Coffee - Taste the unique French roast that gives you an intense tangy flavor without any bitterness. The dark roast and strong taste leaves you satisfied.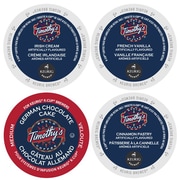 Timothy's Flavored Coffee Bundle, 96 Count (BLB0044)
Item : 24116788
Timothy's Cinnamon Pastry Coffee - Enjoy coffee grown in the best regions of the world blended beautifully with the spicy note of cinnamon and a creamy pastry finish.
Timothy's German Chocolate Cake Coffee - Get the flavor of a freshly baked chocolate cake from your coffee. The sweetness of German frosting, caramel and vanilla create a lip smacking taste.
Timothy's Irish Cream Coffee - The coffee comes with a velvety texture and a smooth and luxurious finish. The Irish cream lends it a delicious flavor and aroma.