Navigate to Top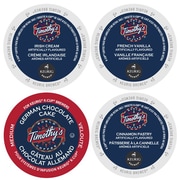 Timothy's Flavored Coffee Bundle, 96 Count (BLB0044)
Item : 24116788
Timothy's Cinnamon Pastry Coffee - Enjoy coffee grown in the best regions of the world blended beautifully with the spicy note of cinnamon and a creamy pastry finish.
Timothy's German Chocolate Cake Coffee - Get the flavor of a freshly baked chocolate cake from your coffee. The sweetness of German frosting, caramel and vanilla create a lip smacking taste.
Timothy's Irish Cream Coffee - The coffee comes with a velvety texture and a smooth and luxurious finish. The Irish cream lends it a delicious flavor and aroma.