Navigate to Top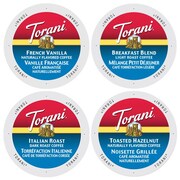 Torani Coffee Bundle, 96 Count (BLB0047)
Item : 24116774
Torani Coffee Breakfast Blend - This smooth and delicious breakfast blend coffee is lightly roasted to bring out the fresh citrusy notes and fragrant aroma to start the day beautifully.
Torani Coffee Italian Roast - The dark Italian roast reveals the tempting flavors of dark chocolate and toasted nuts in every sip that you take. The underlying full-bodied sweetness makes it perfect.
Torani Coffee French Vanilla - The taste of creamy custard and the best French vanilla ice cream blended in your coffee is unbeatable to say the least. The rich treat is truly delightful.