Navigate to Top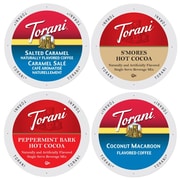 Torani Famous Dessert Coffee Bundle, 96 Count (BLB0046)
Item : 24116770
Torani Coffee Coconut Macaroon - This house blend coffee is unique because of the layered flavors of coconut and toasted cookies. Get an authentic coffeehouse experience with a delightful cookie treat.
Torani Coffee Salted Caramel - Savor the moments with this coffee that comes with a rich, buttery caramel flavor and a pinch of salt to heighten it. This is something you have never had before.
Torani Indulgent Beverages S'Mores Hot Chocolate - Have a thrilling coffee drinking experience with the flavors of chocolate, graham crackers and toasted marshmallows in these single serve coffees.