Navigate to Top
Use umbilical cord clamps to safely seal umbilical site on newborns in your hospital labor and delivery room. Sterile and secure, you can confidently prepare baby for life outside the womb without concern for infection or contamination. Smooth, latex-free plastic is gentle on newborn skin.

Durable
Strong plastic materials provide assurance that once you have secured an umbilical cord clamp it will remain safely in place until the job is done. The clamp will hold fast in spite of the bumps and pressure put on it during the vital medical procedures required in the first few hours after birth.

Easy to Use
Designed to be used in a busy labor and delivery room, umbilical cord clamps can be placed with one hand. A simple snapping closure provides additional ease when applying a clamp to a wriggling newborn while working around a full employee protection kit including sterile gloves.

Convenient Size
Small clamps can be stored in compact spaces for easy transport from room to room on a hospital cart or kept neatly in a labor and delivery room storage closet. The compact clamps are small enough to be wrapped comfortably into a newborns swaddling blanket without getting in the way of a parent's cuddles. You can easily fit a newborn size diaper around the umbilical cord clamp without causing the newborn any discomfort.

Sterile
Umbilical cord clamps provide the necessary protection for a newborn baby from bacteria entering the umbilical site during the critical first few hours after the birth. Sterile plastic provides the assurance there will be no contamination when you apply the clamp to the newly cut umbilical stump.



More
Less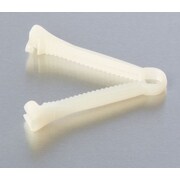 Medline Umbilical Cord Clamps, White, 100/Pack
Item : 110309
Plastic Material
Latex-free
Used on newborns, ours umbilical cord clamp is constructed of smooth, durable plastic to hold the cord safely and securely without scratching babies' skin