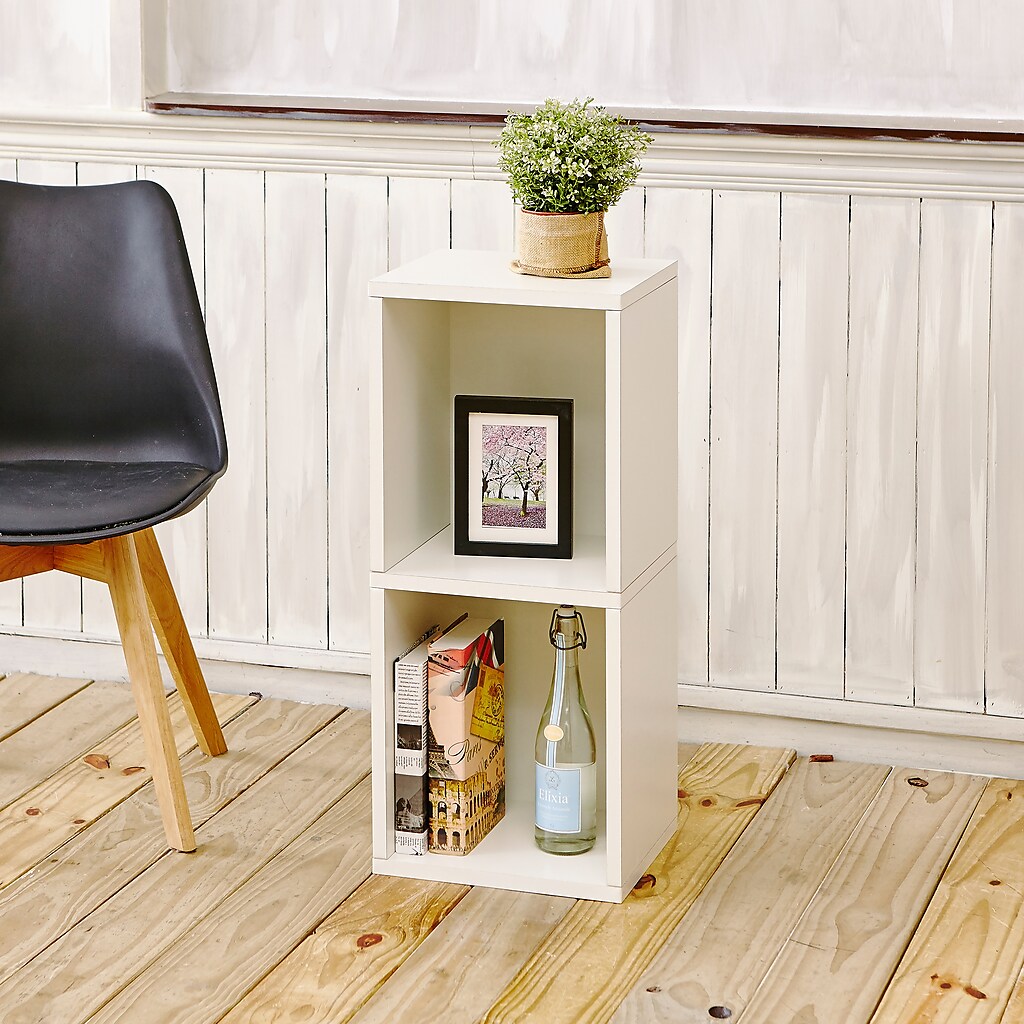 Way Basics 30.2"H 2 Shelf Narrow Bookcase Modern Eco Storage Shelf, White (BS285340770WE)
Item #: 72256
| Model #: BS285340770WE
This item is out of stock for delivery
About this product
Increase the storage potential in any space with the Double Cube Plus.
White, 2-tier bookcase that is simple yet refined. Great for traditional storage of books or magazine or even use it for other items. Can be used with other matching Way Basics items. It is also eco-friendly, made out of environmentally sustainable paperboard called zBoard. The unit is non-toxic, formaldehyde and VOC free so it is safe for you and your family. Way Basics products are easy to assemble, requiring no tools. 3M adhesive bonds boards together instead of hassling with tools and hardware.
Bookcase storage shelf

White

Exterior Dimension: 11.2"D x 13.4"W x 30.2"H

Lifetime guarantee for happiness with product and service

Tool-free and hardware free assembly. Made with durable zBoard recycled paperboard, eco friendly, non-toxic and free of formaldehyde and VOC

Combine with multiple, modular units and customize to meet your needs or space

Interior Dimension (each compartment): 10.7"D x 11.8"W x 13.9"H

Recommended maximum load 50 lbs.

Perfect storage and organization in office, home, closet, garage

Made to stand upright, do not place on side or back
Increase the storage potential in any space with the Double Cube Plus. The cube system by Way Basics allows you to revolutionize the way you organize your home through customizable, stackable cubes. This 2-tier shelf system is the perfect size when used alone, but you can also multiply that storage space by combining units. Made to sit upright and stack, there's no limit to the number of combinations you can come up with. Check out the images to your left for inspiration or if you have a design you're proud of, send us a picture! Made of zBoard, Way Basics products are sustainable. zBoard is a recycled paperboard that is completely recyclable and requires no tools to put together. The cube system is also made to coordinate and blend with your existing decor too and comes in a variety of colors to match your theme.