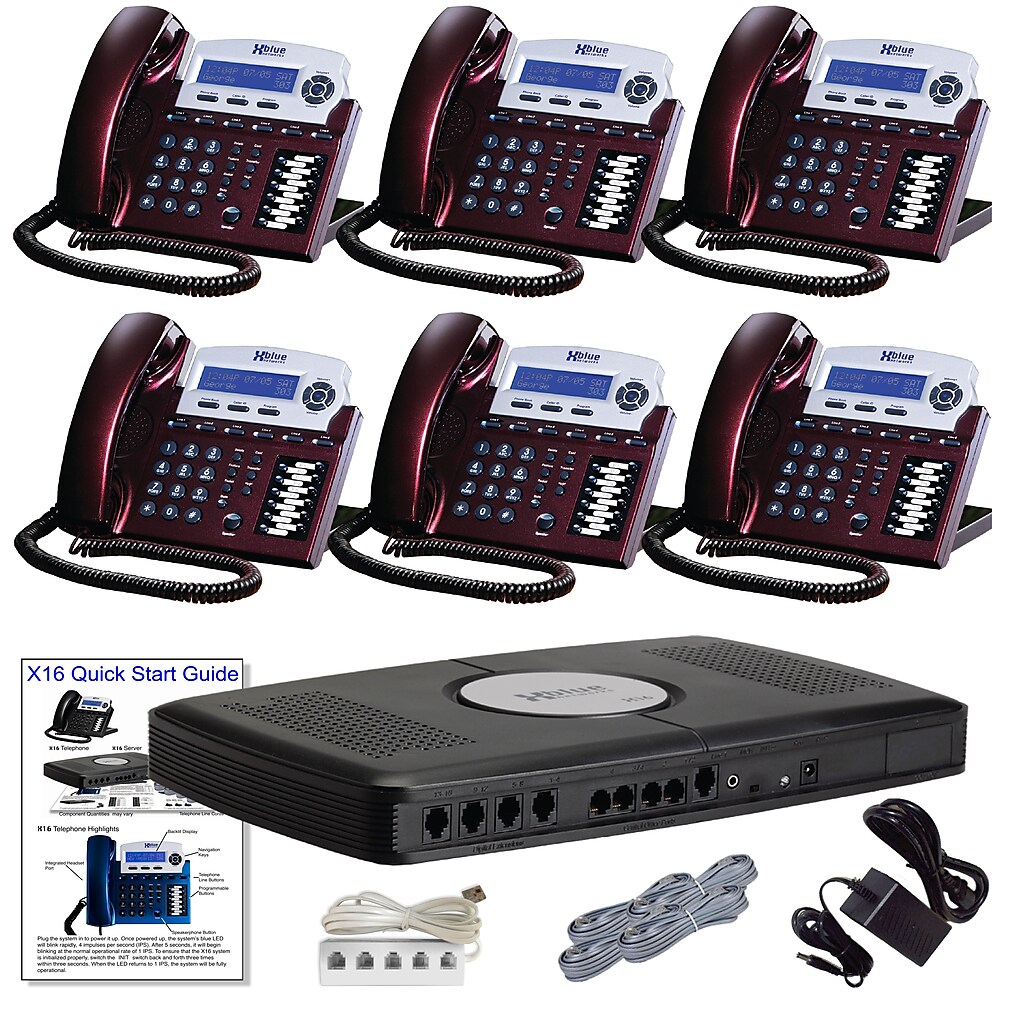 XBlue X16 XB1606RM 6-Line Corded Phone
Item #: 1912969
| Model #: XB1606RM
This item is out of stock for delivery
About this product
Save Money with a Self Install XBLUE X16 Business Phone System
The X16 (6) phone system bundle includes everything you need to install your own office telephone system. XBLUE's innovative "Do-It-Yourself"? design makes it very easy to self-install so you can save money by reducing or even eliminating professional i nstallation and programming charges. In many cases these charges can easily double or triple your cost of a new phone system. Free "live"? US based product assistance is available to help you with installation, programming and on-going tech support. Jus t call us or go online for video tutorials and how-to instructions.
X16 maximum system capacity 6 telephone company lines and 16 X16 telephones

The X16 is a digital telephone system that operates independently of the Internet

Every X16 system includes Automated Attendant for live or backup call answering

Every X16 phone has its own individual Voicemail Box with on-site and remote access

The X16 can be VoIP enabled by adding XBLUE certified VoIP line service

Popular features include Conferencing & Call Forwarding to outside numbers or cell phones

Call Announce Intercom with Hands Free Reply improves & streamlines internal calling

Music on Hold is built-in or you can connect your own custom Music or Announcements On Hold

Every telephone company line has a button on every X16 phone in the system

Hold enables calls to be easily retrieved at any phone by just pushing a line button

All phones include an "Eye-Catching" back-lit display that shows Caller ID, Call Logs and other call details

Interactive display buttons enable easy access to stored Caller ID's, Phone Book and Programming

Each phone has (12) user programmable buttons for one-touch intercom and feature access

Each programmable button has an indicator that shows busy extension status

The X16 Cordless Telephone Module enables connection of Standard Cordless Phones (model # 1645-00)
This X16 bundle includes (1) X16 Voice Communications Server (model #XB1610-00), (6) X16 Digital Telephones (model #1670-76), (4) RJ11 Phone Line Cords, (1) Four Phone Modular Connector (model # XB1698-XB) and Quick Start Install Guide.   Add additional X16 telephones by ordering individual X16 phones for up to a system total of (16) X16 phones.The X16 Communications Server included in this bundle is equipped for connection of up to (4) telephone company lines. Additional telephone lines can be added by installation of the 2 line expansion board (model # 1630-00) for a system total of (6) telephone lines.  Additional phones can be added without installing an expansion board.  X16 telephones are available in (5) popular Designer Series colors;  Charcoal (1670-00), Titanium (1670-86), Vivid Blue (1670-92), Red Mahogany (1670-76) and Pink (1670-75).XBLUE offers high quality "live" pre and post sales support. Our US based technical support staff is ready to assist. So call us with any questions you have regarding the purchase and installation of an XBLUE phone system.