The office landscape has shifted dramatically in the face of the COVID-19 pandemic. And one area that will be significantly impacted is the office breakroom.
A crucial part of office life — where friendships and team bonding flourish — a well-stocked breakroom can help improve productivity and employee morale. When your teams return to the workplace, make sure the breakroom has been updated — and you monitor and manage it appropriately — to help protect employees' health and safety.
The CDC recommends that employers provide a safe and healthy workplace and identify common areas where employees could have close contact with others, such as the breakroom. Furthermore, the CDC recommends reducing density of people in common areas and using methods to physically separate employees. Given the concerns, what approach should you take as employees begin returning to the office? Here are a few ways to contribute to a healthy and rewarding breakroom experience.
Rethink the Breakroom: Tools and Tips for Creating a Safe Space
You want your employees to enjoy their downtime, even with social distancing. Incorporate these safeguards for setting the space and stocking your office breakroom supplies responsibly:
Limit occupancy.
Social distancing is crucial in communal areas. Post an occupancy limit for the breakroom based on the six-foot rule and rearrange furnishings to comply with the required distance. Placing tape on the floor will also help to gauge social distancing better.
Create a schedule.
Stagger occupancy times, perhaps by department, so there's less risk of cross-department contamination.
Impose a time limit.
To help with scheduling and reduce the risk of transmitting germs, impose a 15-minute limit on breakroom occupancy.
Make masks and handwashing mandatory.
Employees should wear a mask in the breakroom and wash their hands often with soap and water for at least 20 seconds. If soap and water are not available, they should use hand sanitizer with at least 60% alcohol. Install additional touchless hand sanitizer dispensers. Post signage to remind employees of hand-washing practices as they are entering the breakroom.
Increase ventilation.
The CDC recommends improving the ventilation of any communal space based on your building's ventilation options — from opening windows to running HVAC systems for extended periods. You should also consider portable, high-efficiency particulate air (HEPA) fan/filtration systems to help enhance air cleaning.
Invest in more equipment.
Extra microwaves, fridges and single-serve coffee brewers will limit the number of people using each and prevent bottlenecks. Keep disinfectant wipes on hand for employees to sanitize breakroom supplies after each use.
Minimize touches.
Consider installing touch-free faucets, soap, towel and waste receptacles. Replace cutlery bins with more hygienic cutlery dispensers.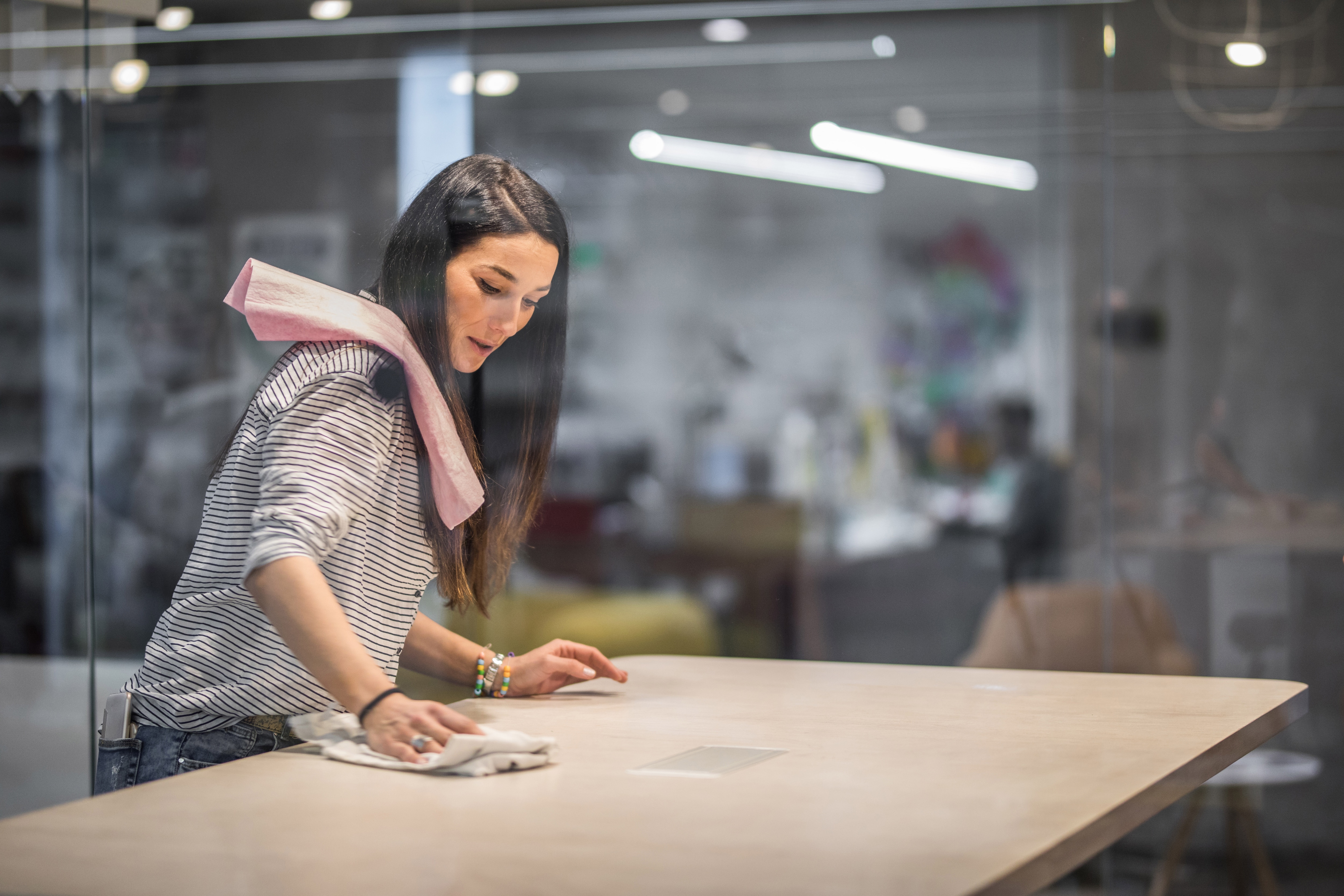 Safely Stock Up: Essential Post-Pandemic Breakroom Supplies
Stock the breakroom with tissues, hand sanitizer and soap — and encourage employees to keep these items at their desks and avoid sharing them with coworkers. Once employees take what they need from the breakroom, make sure there is no passing of items back and forth between colleagues.
CDC guidelines suggest replacing communal snacks, water coolers and coffee pots with prepacked, single-serve items. Also, avoid shared cutlery, cups and plates. This may go against sustainable recycling practices you've implemented over the years, but it's an important and responsible step. Install extra recycle bins and incorporate compost bins to take advantage of compostable cutlery, napkins and cups.
No-share snacks.
Healthy snacks should be part of any breakroom. Swap out the shareable, economy-size snack boxes and bags with individually wrapped snack items such as popcorn, dark chocolate, nut mixes and snack bars. These items all have a long shelf life and keep your colleagues' brains working at full speed.
Masks and hand sanitizer.
Keep face masks and hand sanitizer at the ready in the breakroom. Also, consider installing a touchless dispenser for them.
Water bottles.
Replace the community water cooler with bottled water. Discourage employees from bringing refillable water bottles and other items from home that might contaminate the breakroom.
Single-serve coffee makers.
Install Keurig machines and reinstate disposable cups and individual creamers. Now there are even more recyclable single-serve options — and if you choose compostable paper cups, you can feel better about the switch. Employees can also consider placing single-cup coffee makers on their desks for individual use.
Breakroom cleaning supplies.
Our practices have evolved from the tradition of cleaning for appearance to cleaning for health. Stock up on disinfectants and effective cleaners, wiping down the breakroom more frequently in addition to its regular cleaning schedule.
As you and your team transition back to office life, make sure you have all the necessities to keep the workplace sanitary and your staff safe. Stock up on all the breakroom essentials at staples.com. Or, for expert recommendations, contact your Staples Account Manager or BreakroomHelp@staples.com.