People spend almost a third of their day in an office chair. While we've heard about the dangers of sitting too long, what about the dangers of sitting all wrong? When working from home, employees are setting up desk chairs or clocking in from unusual locations — and that can mean ergonomic bliss or worsening back pain. In fact, a November 2020 study found that 72% of remote employees worked from their beds. Can you relate?
Read on to find out what your at-home seating arrangement says about you.
At-Home Adaptation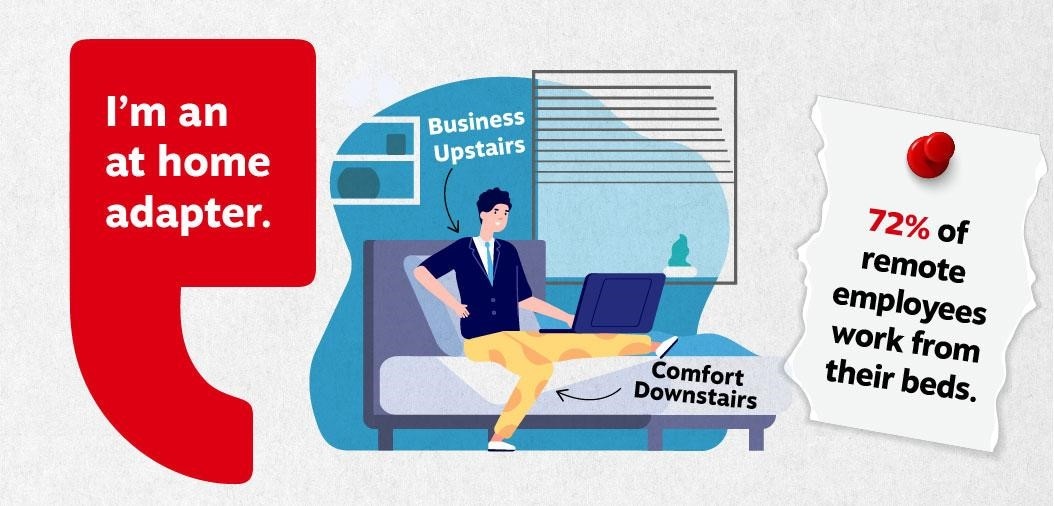 You're working from your bed, couch, or anywhere else near an outlet to get the job done — or maybe you've gone a step further and set up a desk in your bedroom. With WFH flexibility comes the freedom to sit where you please, so you join a virtual happy hour from your back porch, call into a team meeting from your bed, or lead a training session from your sofa. The sky's the limit when it comes to your at-home workspace, so you make the most of it.
Pros
You're able to work from anywhere.
You can stay comfortable in your own environment.
You can switch it up by moving to different areas throughout the day.
Your workspace can be easily tucked away or altered.
You're able to make use of your existing space.
Cons
Most home seating options aren't designed for eight-hour comfort.
Your bed or couch are often places to unwind, which can make productivity a challenge.
Sometimes the more "cushy," the less likely you'll be comfortable while trying to stay productive for longer periods of time.
Turning off your brain at night is challenging if you work feet away from your bed.
It can be difficult to have a professional background in Zoom meetings.
Tips
Focus on ergonomics. The best work from home chairs are supportive and adjustable to your body.
Your entire WFH setup should be comfortable. Be sure the top of your laptop is at or just below eye level by employing a laptop stand. You can also use a standalone keyboard or a computer mouse, which is easier on the wrist than the trackpad.
At home, you may be less likely to take breaks. Get up from your desk every hour to give your mind and body a break, prevent burnout, and encourage productivity. Breaks can also help you establish boundaries for when it's time to work vs. shut down for the day.
Even if you don't have a desk and chair, you can make your setup more comfortable. Use items like reams of paper or books to bring your laptop to eye level or serve as a footrest. You can also use pillows to support your legs as you work from your bed.
Set up your workspace in a spot that gets natural light, keeping your brain active and focused.
If you're going to be on video calls, make sure you have a high-quality webcam and your background is neat and professional.
Customized Comfort
You spend eight hours or more on the job each day, so you've invested in the best home office chair. With your ergonomic chair, you can adjust your seat as much as you please, supporting your posture and keeping you comfortable — even when you have to work late. You know the importance of staying comfortable while working through your to-do list, and that's why you've customized your setup to a T.
Pros
Ergonomic chairs can be adjusted to your specifications, making them ideal for back pain.
Ergonomics can improve productivity at work.
Custom seat depth and height can reduce pressure on hips.
Cons
Ergonomic features tend to make a chair more expensive.
It may be difficult to find all the features you need in one ergonomic chair.
Moving adjustment mechanisms can become damaged over time.
Tips
When shopping for an ergonomic chair, make sure the height, lumbar support, seat depth, armrests, and recline can be adjusted to your specific needs.
Consider choosing a mesh-backed chair for breathability.
The customization doesn't have to stop there. You can customize your workspace even more with features like accent lighting, storage cabinets, or decorations.
Fitness-Focused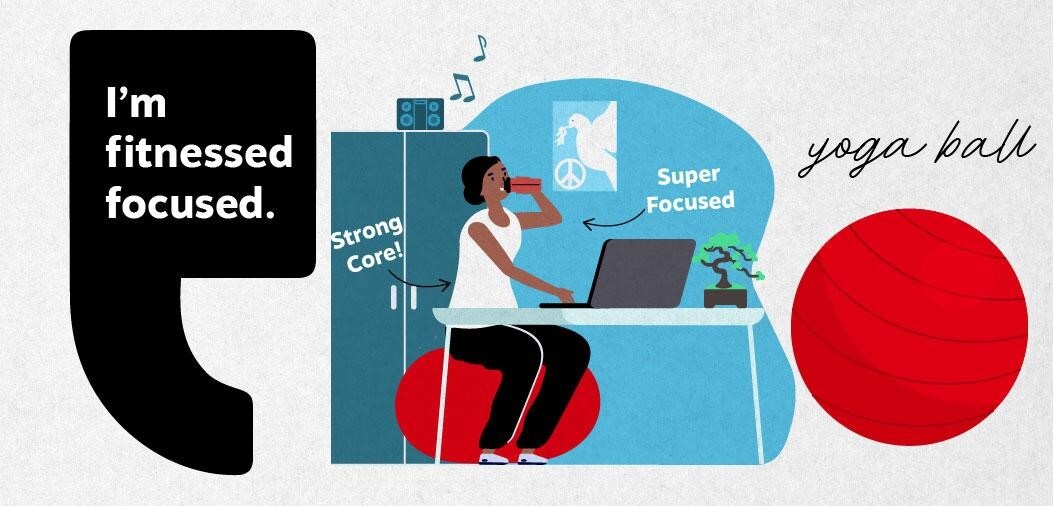 You're passionate about fitness and keeping your body and mind engaged, even when you have to sit for hours on end. You use an exercise ball or a standing desk as an alternative to a traditional desk chair to feel active while you're working. Even while responding to emails and filling out paperwork, you're committed to going strong and staying focused.
Pros
Cons
If you're not already used to it, standing all day can be hard on your joints.
If the height of your standing desk isn't right, you can introduce back strain.
Exercise balls can lead to slumping and may not activate your core more than a regular desk chair.
It can be difficult to balance on an exercise ball or a standing desk stool if you're not accustomed to it.
Tips
Ease into using a standing desk or exercise ball with 30-minute intervals throughout the work day.
Have a standard chair nearby in case you want to complete certain tasks while sitting.
Get an anti-fatigue standing desk mat to keep you comfortable while you're on your feet.
Consider an adjustable-height table. Sharing your space with a partner or roommate? It can be adjusted to fit them, too.
Make sure your exercise ball is fully inflated and at a height that keeps your thighs sloping downward.
Add some stability. This can include positioning an exercise ball near a wall in case you lose your footing. You can also find exercise ball chairs, which offer the same benefits with added chair legs.
Table Top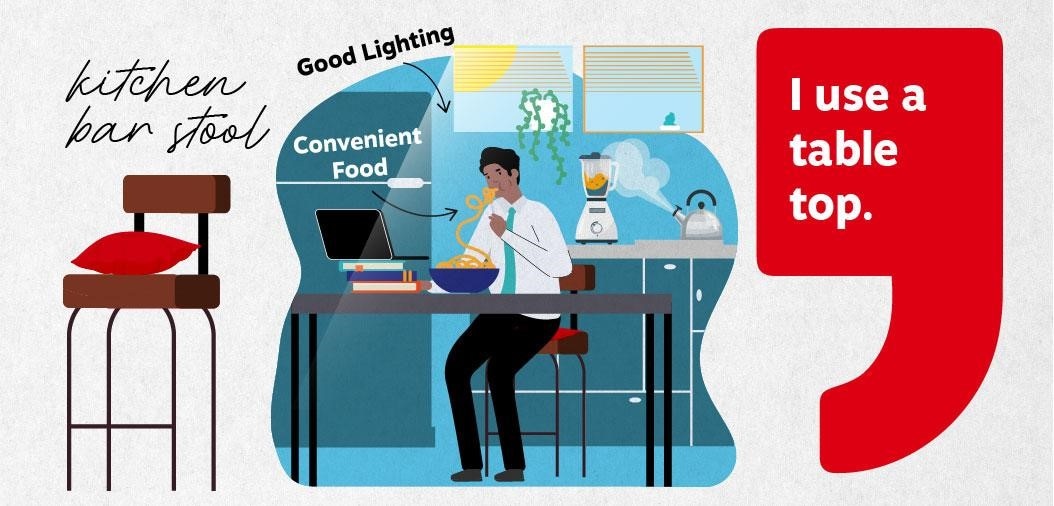 You're working from home full time or through a hybrid office model, and you've got limited workspace options. So what did you do? You set up shop in your kitchen. You're devoted to accomplishing your goals, even if you need to work from your kitchen table.
Pros
You can easily brew a cup of coffee or whip up a quick lunch.
You don't need to change anything about your home layout.
The kitchen often has the best lighting in the house, so you can avoid eye strain throughout the day.
Cons
Wooden chairs and bar stools can be hard on your joints, leading to back pain.
Kitchen tables and countertop bars may not be positioned to keep your neck and wrists straight.
It's hard to create a dedicated workspace when the kitchen is so often used.
Tips
Try to keep a clean kitchen so you're not distracted by a sink full of dirty dishes.
Creating a DIY standing desk by stacking items on your kitchen counter.
Add an ergonomic seat cushion to your kitchen chair to make long hours a bit more comfortable.
If you need to use your kitchen space once work is over, opt for items that can be easily stored or tucked away.
High-Tech Workspace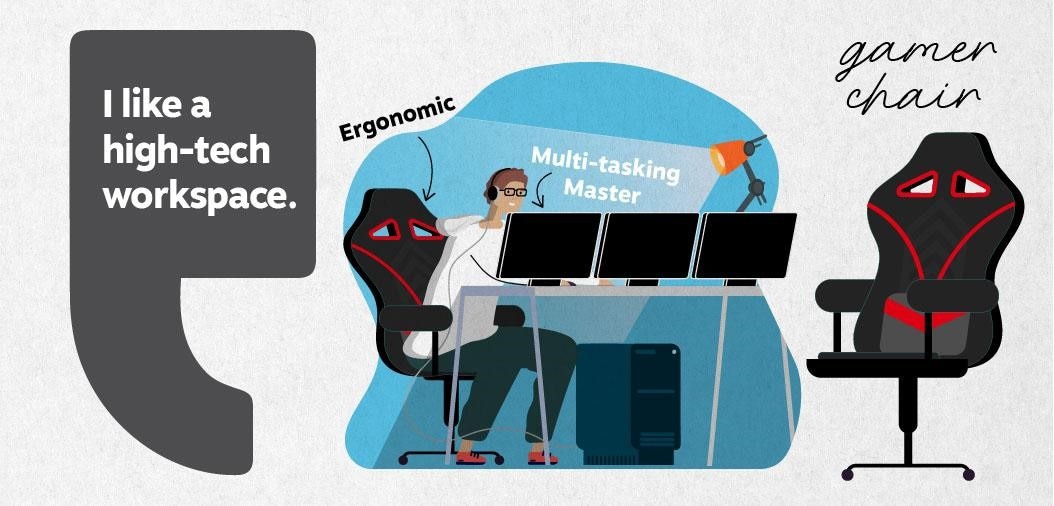 You've got the best at-home computer setup of all your office mates, with a comfortable gaming chair that promotes ergonomic lounging. Armed with this pro tool, you're a serious multi-tasker — just don't be tempted to start a gaming session during work hours.
Pros
Ergonomic features can be fine-tuned to your body.
These chairs support your spine and prevent issues from sitting for too long.
They come in a wide variety of colors and styles to match your setup.
Cons
Gaming chairs are often pricier than regular desk chairs.
Most gaming chairs are made of leather or faux leather with high seat backs, so they're not usually breathable.
Tips
Use the ultra customizable features of your gaming chair to ensure ultimate comfort while working. You can adjust the lumbar support, height, armrests, and more to stay focused on your tasks instead of neck pain.
Take your tech game even further with a noise-cancelling headset. You'll be able to join calls while keeping the noise to a minimum. Your family members and pets will thank you.
Utilize other ergonomic accessories, such as a laptop stand, standalone keyboard, or an ergonomic mouse.
Office Mini-Me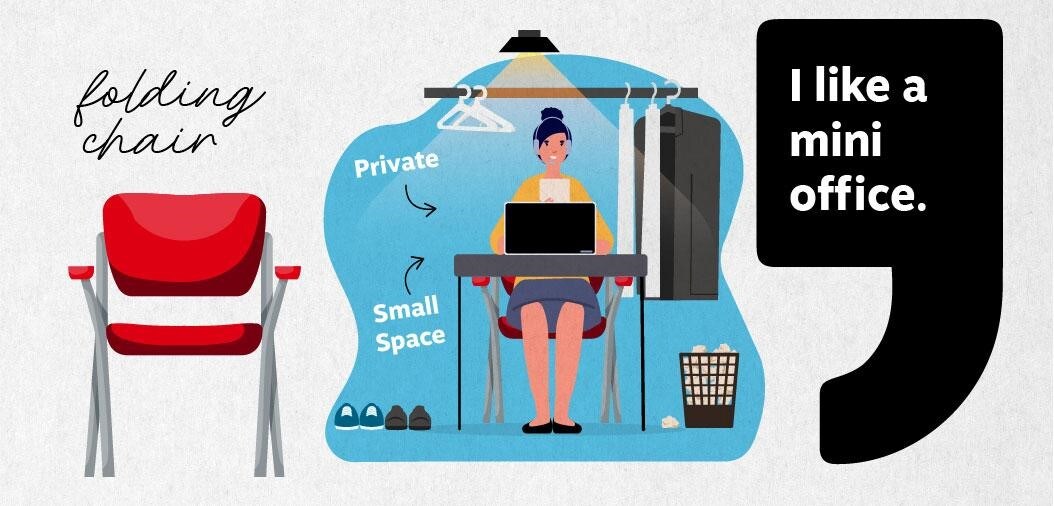 You've set up your workspace in your hallway, living room, or kitchen to make a mini office at home. Even though your space may be small, you've got big dreams of growing your career and staying dedicated to your craft. You do what you need to do to get the job done, even if that means working from a closet.
Pros
A small office doesn't take up too much space in your home.
A dedicated workspace helps you focus on your tasks.
Cons
A smaller workspace can feel cramped, and you may not be able to fit all your tools on your desk.
Being in other rooms, such as your living room, can be distracting.
Tips
Try setting up your workspace so that you face away from potential distractions.
If you can, set up near a natural light source. If you can't, use a desk lamp to light up your space.
Use cable management twist ties or clips to keep your cords tucked out of sight, preventing a messy look in your small space.
Opt for a small chair, such as a rolling stool or folding chair, to cut down on clutter.
When it comes to having a small office, organization is key, so take advantage of open space and use it as storage. Office organization solutions including storage drawers, baskets, and letter trays can keep things tidy.
A closet that functions as a workspace — also known as a "cloffice" — is more common than you might think. At-home workers who live in small urban apartments or older homes can use smart interior design principles like bright paint colors and modern light fixtures to bring their cloffice to life.
WFH Haven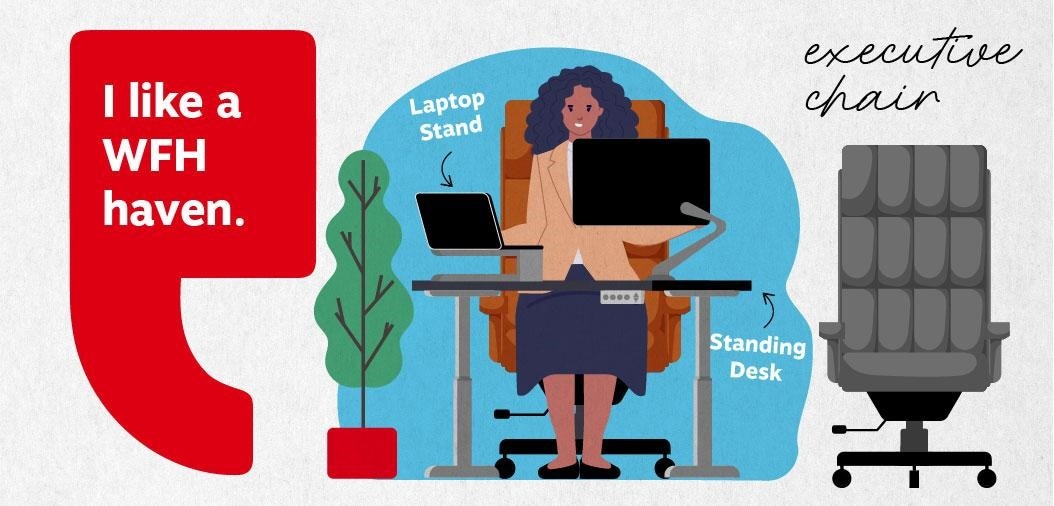 You want to burn through your tasks just as well as you did in the office, so you spared no expense to get the best of the best. Equipped with an ergonomic office chair, an adjustable desk, a standalone keyboard, a Bluetooth mouse, and a laptop stand, your dedicated workspace is your own personal haven.
Pros
You can work more efficiently and focus less on neck and back pain.
You've got quality office products to keep you on task.
Cons
Setting up the perfect WFH office can require more financial investment.
You may be required to work from the office more in the future and spend less time at your WFH desk.
Tips
Create an ergonomic workspace by ensuring your desk, chair, laptop, and more are positioned properly.
Take breaks every hour or so. You might even want to take a walk around the block to get your blood pumping and avoid burnout.
To make your WFH setup feel even more authentic, think of it as a home cubicle. Cubicles were designed to give workers the space and privacy they need to dive in and focus. You can use room dividers or even curtains to create a designated workspace that limits distractions.
You'll be working from your home office for much of the day, so don't be afraid to make it interesting. Add your personality to the decor with motivational quotes, photos of friends and family, or houseplants to keep you going from nine to five.
As all-remote or partially remote workplaces become more common, you may find yourself spending more time working from home. Whether you're working from your bed, taking calls from your gaming chair, or sending emails from your mini office, you have a lot of freedom with your at-home office personality. Don't be afraid to make your workspace your own!