It's easy, even in today's highly digital world, to get swamped by paper.
The solution? Establish filing stations that are easy for everyone to use and systems that make sense for your office. Here's how.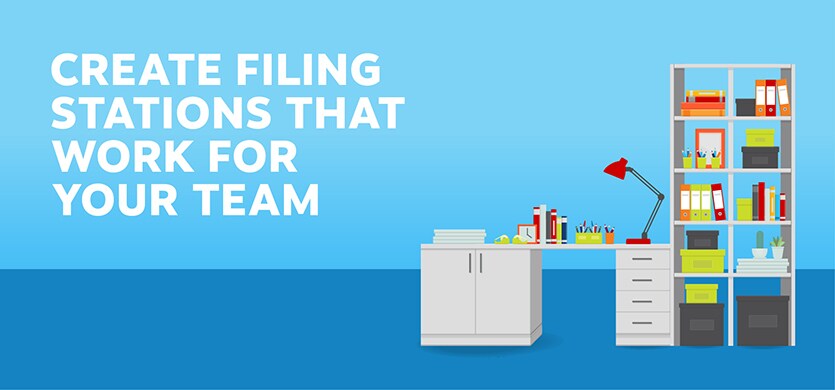 When it comes to the setup of your filing stations, consider what will motivate people to use them. Here's how to help employees embrace their inner neat freaks:
Decentralize filing stations. Proximity matters. You may be inclined to create a single file room for ease of access, but decentralizing filing stations by department can help ensure that employees actually use them. The team that uses their own station knows what matters, what to keep and where to file it. Filing is easier when it's close by.
Create locked-down stations for sensitive files. If your office has documents that are highly sensitive, you can place them in a secure station behind a locked door with access permission. Note: If employees need frequent access to sensitive files, such as contract documents, house redacted versions in the open filing stations and unredacted versions under lock and key.
Provide more than just file cabinets and folders. The goal is to make filing easy — and maybe a little fun, too. Think matching tabs for your files, color-coded dividers and file holders, large folders so odd-sized items can be neatly stowed, markers, label makers, binder clips, staple removers and any other specialty items you use. Put a shredder at every station: Make it easy to dispose of excess, so employees file only what is essential.
Cater filing stations to your employees. Consider the tendencies of each team in your organization. Is one team more hyper-organized? Let that team take the reins. Create a filing station with only broad, high-level folders and allow them to categorize more specifically in a way that works for them. For less granularly focused teams, a well-organized station with labels, color-coded folders and explicit instructions will help make filing less onerous.
Reduce paper clutter with incentives. Recognize employees who help keep your office organized with a small gift card or a traveling trophy that moves monthly from desk to desk to honor filing "heroes."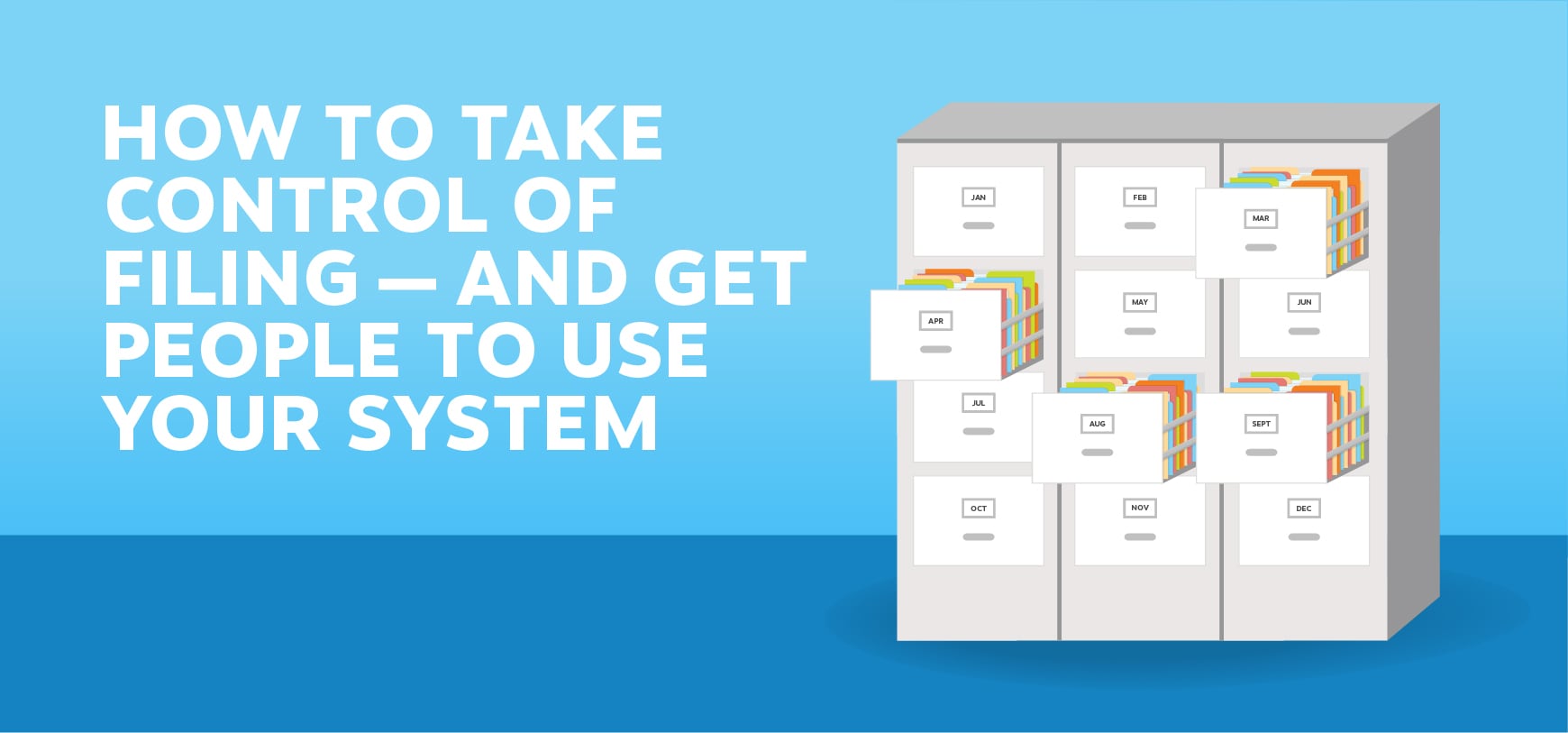 Setting up an easy-to-use, decentralized filing station is a critical first step, but it's equally essential to develop a repeatable organizing system. Here are strategies for establishing a filing system that will stand the test of time.
Recommendation: Start with the "what" then move to the "how." No matter which route you choose, promote rules of the road so that your system gets adopted. You'll want to advocate its use through an official policy and provide training.
1. Establish a filing plan. Your plan should detail:
Your processes for filing and maintaining documents by subject and subfolders
The expected filing routine by employees: why, how often and how
Archiving and destruction schedules for files
Helpful tips unique to your business
2. Choose a filing strategy. There are many options, but the 43 Folders Method is a proven approach that is best used for managing temporary items in a filing system.
With 43 Folders, you create tickler files: 12 monthly folders and 31 daily subfolders.
You cycle the folders constantly: You open the day's folder, pull the contents and then move it to the back of its month once the day is complete. At the end of the month, the month folder moves to the back of the set.
For example, if on the fifth of the month an invoice comes with a payment due 10 days out, you would tuck the invoice in the subfolder labeled "15," which represents that day of the month. Then when the 15th rolls around, you'll open up that day's folder and have the invoice when you need it.
Alternatively, you can file items by project or status of completion. Batching project documents together, no matter their type, reduces searches. If a program has multiple projects, those can each have a subfolder. That subfolder then is specific but also extensive.
Separating ongoing work from completed work also reduces files that users must sort through. Whoever closes a project then closes the file and moves out of the active area.
3. Create a process for file review, archiving and destruction. One approach is to set a regular review of two types of files that will be in your subfolders: folders containing documents with scheduled destruction and/or archival dates and completed projects folders.
Each team in your office can assign someone or a small committee to periodically review and decide what's next for the documents in these files: purge or archive permanently, keep a separate hard-copy file in long-term storage or archive digitally.