Adding a new skill is a terrific way to grow professionally, but it can be daunting. What is most worthwhile for you to pursue? Where can you find the time, and what is a good source of instruction? We asked office managers in a Staples survey these questions:
How did you learn the skills to enhance your career?
Maureen, secretary: "Software classes gave me the confidence to contribute more"
Gaining a working knowledge of your company's core offering can open doors. After she took a three-day community college class to learn the basics of the AutoCAD design and drafting program, Maureen was able to pitch in to help her company's engineering staff until a vacancy on the team was filled. Maureen says that learning engineering basics has made her a better contributor to the workplace.
"After taking the class, I had a new understanding of what everyone in the office was working on," she says. That knowledge can be helpful in unexpected ways. For example, she helped create an online filing system for engineering work — something she wouldn't have had the confidence to do before.
Sonya, administrative assistant: "I mastered the tools of the trade"
Deepening your knowledge of fundamental office tools can make you a more versatile, productive contributor. Sonya believes in digging in and fully understanding the nuances of everything she uses to get the job done. Her first effort was to master Excel. How? "I locked myself away for two or three days and got on YouTube to watch tutorials," she says.
That game plan still serves her well — she's become an expert in Microsoft PowerPoint and Microsoft Word through the same self-guided approach. Those skills have helped her excel in her job at a water treatment facility, where projects of all sizes and types come her way.
We asked respondents of a Staples survey to tell us: What do you hope to achieve by developing new skills on the job?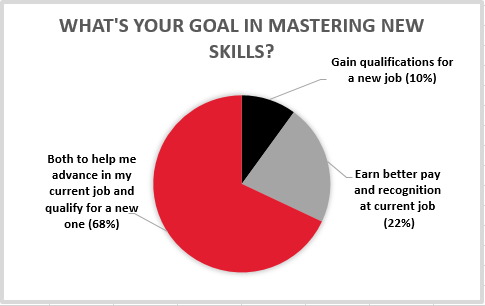 Dionne, executive assistant: I set out to solve a problem for the company and learned a new skill in the process
If you see something that needs improving at your company, you might be the ideal person for the task — even if you don't yet have the knowledge to do it. When Dionne was put in charge of updating information on the website at her previous nonprofit job, she found the site tools much too time-consuming. "I thought, there has to be a better way."
She searched around for more user-friendly website building software, and taught herself how to use it by watching video tutorials and trying out its different features.
Dionne quietly re-created the website with the new tools in the hopes of convincing her organization that it should switch. When she unveiled her project, the group was thrilled and told her to go for it. That project helped lead to her advancement to a better role.
Subscribe to Winning@Work, the monthly newsletter for administrative professionals, exclusively from Staples.