Staples Brand Products
Products that work as hard as you do.
Count on Staples® Brand to help make every workday a win.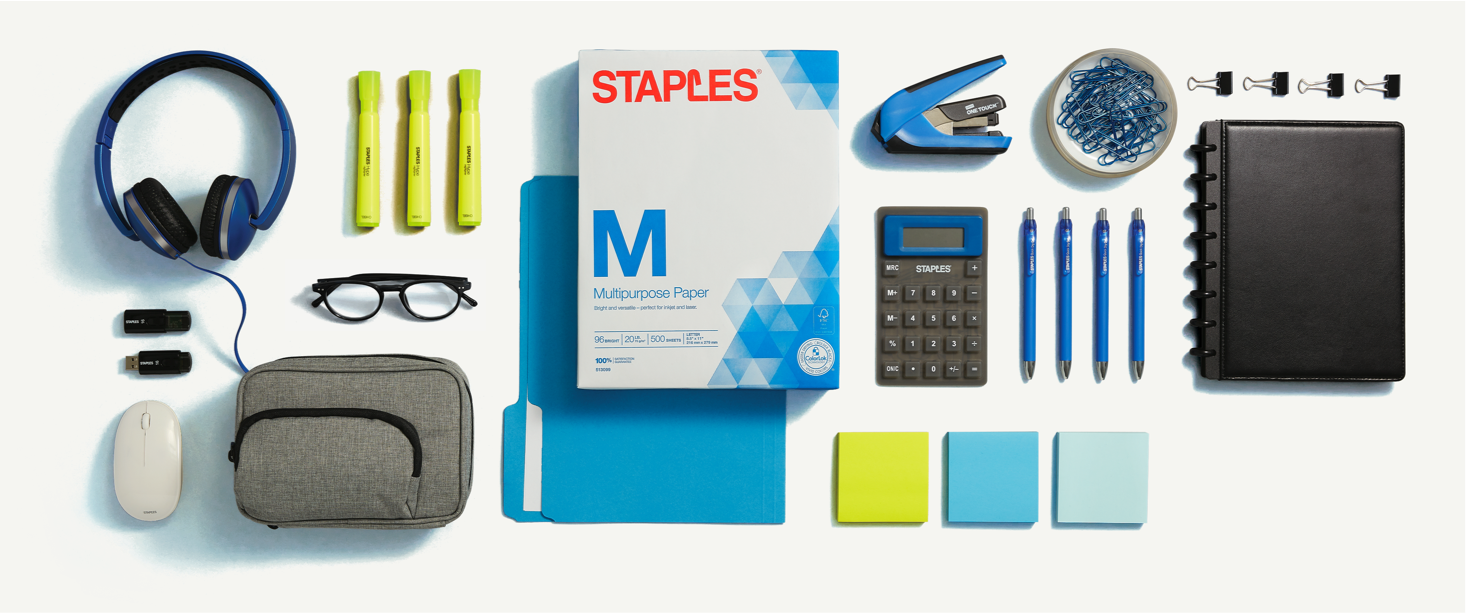 Customized to your office.
Create the ideal furniture pieces for your space with Workplace Series™.
Learn more
FEATURED STAPLES
®
BRAND PRODUCTS
It's easy to keep a home, school or business running smoothly with Staples Brand Products. From everyday essentials such as printer ink, ballpoint pens and paperclips to paper shredders, executive office furnishings and filing cabinets, every product provides high-quality, reliable performance and value for large corporations and small businesses alike.
High-Quality Products for Your Every Need
Whether you're setting up shop for the first time or have a long-established business, you'll find a selection of top quality Staples Brand Products in stock. Every item is built to last, going through extensive market research and quality assurance testing to ensure they perform just as well as brand-name office supply brands, yet at far more economical prices. This combined value, function and quality mean employees can perform efficiently across every department while saving companies valuable time and money.
Choose From a Wide Range of Staples Brand Products
Staples' comprehensive selection of branded products provides businesses with everything they need to operate successfully, from ergonomic furnishings to file folders to correction tape. Designed with the customer in mind, businesses can expect years of solid everyday and heavy-duty use from electronics, paper products and the thousands of other items in stock.
Companies focused on sustainable eco-conscious business practices appreciate our Staples' Sustainable Earth line made from renewable, recycled and/or certified green materials, including a range of drinkware, cutlery, toner cartridges and cleaning supplies. Select items are compostable at a commercial facility or easily tossed into a recycle bin so users can feel good about contributing to a cleaner and healthier environment.
When it comes to keeping a facility in tip-top shape, Brighton Professional products exclusively from Staples feature a range of premium-quality cleaning supplies, health and safety products and restroom maintenance tools for a range of needs. These products make it easy to maintain a safe and clean work environment with value-added packs of trash bags, refillable hand soaps, industrial-strength cleaners and air filters.
Enjoy Savings at Staples by Shopping in Bulk
Businesses of every size save even more by stocking up on bulk quantities of essential office supplies. Whether you're in the market for multiple cases of copy paper, 3-ring binders, art supplies or shipping materials, these convenient multi-packs ensure frequently-used items are always on hand, helping business executives, teachers and students stay at the top of their game.
Are Staples Brand Products Ethically Sourced?
Staples maintains a Supplier Code of Conduct, ensuring products are sourced responsibly from certified vendors, suppliers and manufacturers who treat their workers fairly and respectfully. Customers can rest assured that every finished product is held to strict quality standards and produced in an environmentally sustainable manner.