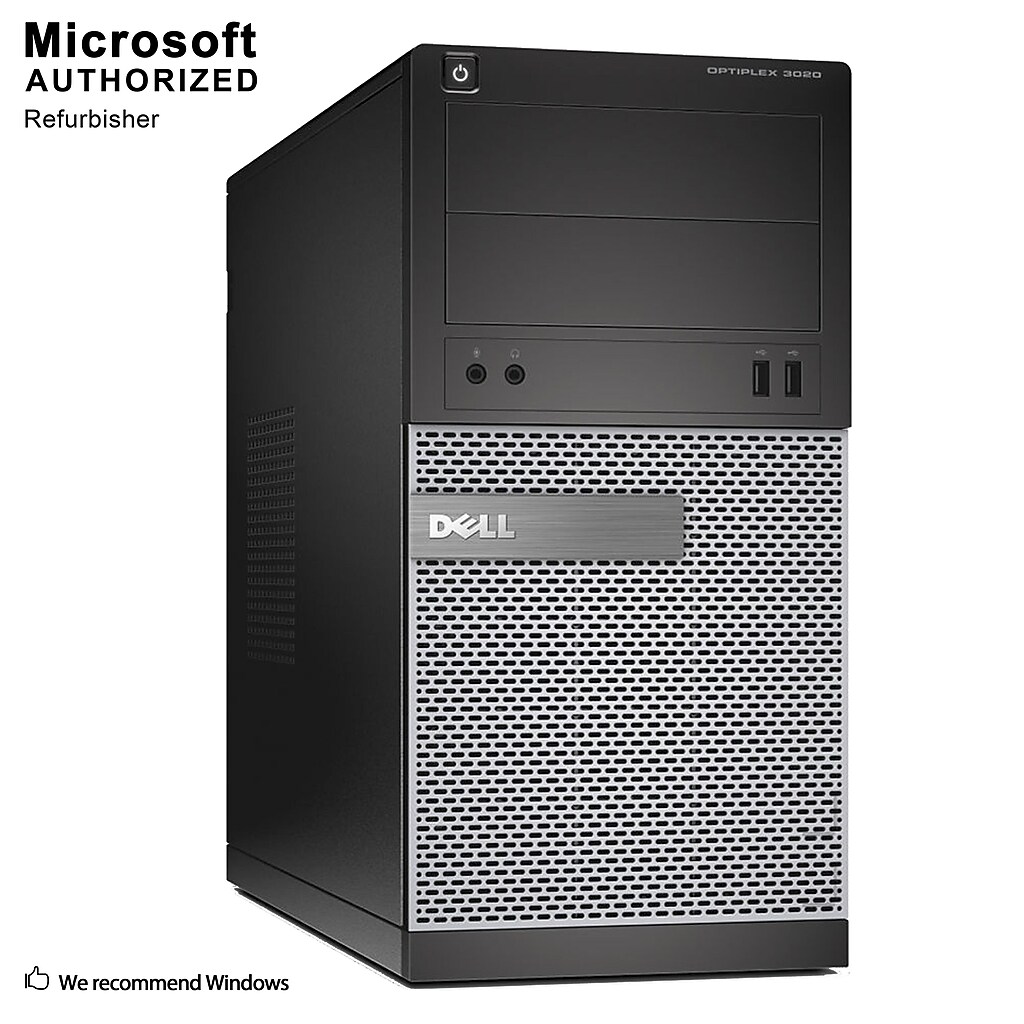 Dell OptiPlex 3020 Refurbished Desktop Computer, Intel Core i3 4130 3.4GHz, 120GB SSD+3TB (S18VFTDEDT00P27)
Item #: 24356584
| Model #: S18VFTDEDT00P27
This item is out of stock for delivery
About this product
Dell 3020 TW CI3 4130 3.4G / 8G DDR3 / 120G SSD+3TB / DVD / WIFI / DP to HDMI Adaptor / Bluetooth 4.0 / DP / VGA / W10P64
The essential computing experience: Empower your workforce with the Dell OptiPlex 3020, Dell's newest budget-friendly desktop, developed to meet your users' workplace requirements. Available with up to Intel Core i5 Processors, Intel HD Graphics 4600, and dual monitor capabilities, the Dell OptiPlex 3020 provides the vehicle for increased productivity and collaboration especially when combined with Dell essential accessories such as award winning monitors, keyboards, mice, and headsets for a complete computing experience.
4th Generation Intel Core I3 4130 Processor

8G DDR3

120G Solid State Drive

Windows 10 Professional

Intel HD Graphics 4400

Wi-Fi and Bluetooth 4.0 connectivity

One Optical Drive

6x USB 2.0, 2x USB 3.0

1 RJ-45; 1 VGA; 1 DisplayPort 1.2; 1 Mic-in (front, re-taskable to headphone)

14.2 x 6.9 x 16.4

PC, Power Cord, Keyboard, Mouse, USB WiFi Adaptor, Bluetooth Adaptor, DP to HDMI Adaptor, Warranty Instruction

1 Year Warranty
The Dell OptiPlex 3020 provides great customer value and performance, featuring 4th Generation Intel Core processors for reliable workplace productivity while also delivering peace of mind with best-in-class security.