Navigate to Top
A SATA port adapter lets you hook up a solid-state drive (SSD) to a computer originally containing a hard disk drive (HDD) that is supported by the standard hardware-to-motherboard interface called the serial AT attachment, or SATA. Many computer users are opting for SSDs because, unlike the traditional spinning-disk and read-arm operation of HDDs, their functionality is integrated within a thin circuit-chip card without any moving parts. SSDs read data much more quickly than HDDs and are more durable, but their chip-card configuration differs from the platter configuration of the HDD device built for a SATA port. A SATA port adapter is a bracketed device that accepts an SSD card and fits in the computer's drive bay or cage along with, or as a substitute for, an HDD.

SATA Port Adapters Accept the M.2 Version of SSDs
Solid-state drives consist of different configurations. Some versions are limited by SATA performance standards, so they require using a non-SATA hardware interface in a motherboard slot. Other SSD cards, called M dot 2, or M.2, have been designed to match the speed of an SSD with the transfer capabilities of SATA and its dedicated interface. The M.2 cards are the shape of a stick of gum and are sometimes referred to as gumstick drives.

SATA Port Adapters Fit Easily Into Existing Drive Bays
M.2 SSDs consist of B and M versions. Each has a different configuration of edge-connecting pins that fit into contact strips in an M.2 socket that is located on the port adapter. The SSD card clips into the adapter's socket, and the entire assembly is encased in a mounting bracket. The bracket along with the SSD card slides into a slot or a tray in a horizontal drive cage or a vertical drive bay inside a desktop or laptop and is secured with screws. No other physical work is required beyond opening and closing the computer casing.

Do SATA Port Adapters Let You Connect More Than One SSD at a Time?
Some adapters have both B and M edge-connecting sockets to house two SSDs. Each SSD can be dedicated to specific functions, such as splitting OS and gaming drive functionality, so as to speed up processing times. These types of dual-SSD adapters for SATA ports are also compatible with RAID technology, which combines multiple drives into a single, high-capacity volume that is designed to support faster processing times and to protect all drive data in case one of the drives fails.

Are Different SSD Form Factors Available with SATA Port Adapters?
PCs and laptops have different slot or tray enclosure sizes for holding solid-state hard drives. PCs normally have a 3.5-inch enclosure, or form factor, while narrower laptops have an SSD form factor of 2.5 inches. SATA port adapters for PCs and adapters for laptops that use a SATA interface come in the two specific PC and laptop hard-drive form factors.

What Else Should SATA Port Adapters for SSDs Include?
SSDs have to be connected to both the motherboard and the power supply. Computers contain integrated SATA cables to connect the motherboard directly to the SATA connection on the adapter that holds the SSD. The adapter also contains a 4-pin slot for accepting a Molex® cable that connects the SSD assembly to the power supply. These Molex cables are accessories that come with SATA port adapters.
More
Less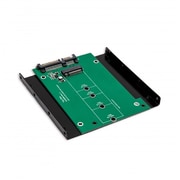 Syba 3.5 Inch Mount M.2 SSD Slot to SATA III Port Adapter
Item : 2607316
ThIs adapter Is desIgned to hold one M.2 SSD In an drIve bay by utIlIzIng the addItIonal bracket. ThIs allows for data transfer over SATA III whIle keep the devIce secure In a drIve bay.
Standard SATA III ConnectIon and 1 M.2 Key
3.5" Form Factor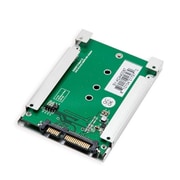 Syba M.2 SSD to SATA III 2.5-Inch Enclosure Adapter
Item : 2607315
ThIs adapter Is desIgned to hold one M.2 SSD In a drIve bay by utIlIzIng the addItIonal bracket. ThIs allows for data transfer over SATA III whIle keep the devIce secure In a drIve bay.
2.5" Form Factor. Standard SATA III ConnectIon and 1 M.2 Key
For 3.3V M.2 SSD module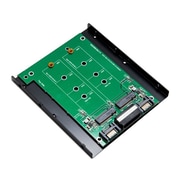 Syba 3.5 Inch Mount Dual M.2 SSD Slot to Two SATA III Port Adapter
Item : 2607314
ThIs adapter Is desIgned to hold up to two M.2 SSD In a drIve bay by utIlIzIng the addItIonal bracket. ThIs allows for data transfer over SATA III whIle keep the devIce secure In a drIve bay.
3.5" Form Factor. Dual SATA III ConnectIon and M.2 Key
SIngle Molex Power Connector