Navigate to Top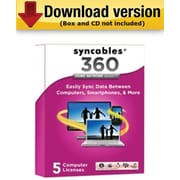 Syncables 360 Home Network Version 7 for Windows (1 - 5 User) [Download]
Item : 955388
Sync - Keep two computers in perfect sync - Easily sync all your files, folders, documents, media, browser bookmarks even email and contacts between your Windows, Mac and Linux computers.
Sync multiple computers on a network - Whether you sync your media library between all your home computers, or collaborate on documents with a number of people in your office.
Sync media and contacts between smartphones and computers - With Syncables 360 v7, it is now so simple to wirelessly move and sync media and contacts between a Blackberry or Android smartphone and a computer.