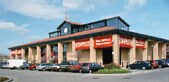 In partnership with Kingfisher plc, Staples, Inc. opened the first Staples UK store in Swansea in April 1993. Today Staples UK is a wholly–owned operating unit of Staples, Inc., and operates more than 78 stores.

Each Staples UK store carries approximately 5,000 office products at everyday low prices. Staples UK also offers delivery of your order.

If you would like to request a copy of the latest Staples UK catalog, please call (0)800 14 14 14.

Click here to find a store near you, or to visit the Staples UK web site.