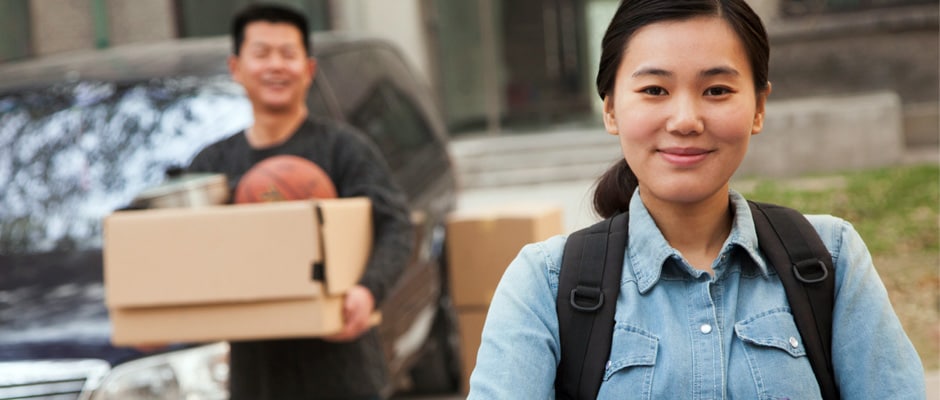 College Dorm Essentials 101
Going off to college is exciting, but living away from home can be a little stressful, too. Ease anxiety and increase comfort by packing up items that make the dorm or apartment feel more like home.
We asked a recent grad, a parent and a designer for their tips on creating a great living space at college.
Tip 1: Consult your roommates
Student: Contact your roommate as soon as possible. "As far as décor goes, exchanging pictures of any major pieces — like a rug you plan on bringing or your bedspread — can be helpful if matching décor is important to both of you," says Chicago resident Caroline Merten, a recent University of Missouri graduate. Same goes for wall art like posters and other accessories. "Remember that your roommate may not have the same aesthetic taste or the financial resources you have — anticipate there will be compromises."
Parent: Leave the negotiating to the kids, unless you need to confer about a big-ticket item like a large computer monitor, mini fridge or big-screen TV. "The girls themselves may have touched base on a lamp or something, but we didn't talk with the parents," says Peter Andersen, a Seattle father of two college students.
Tip 2: Know what dorm room essentials to bring
Parent: Focus specific requirements. "The rooms themselves haven't changed, nor have the needs of students: a desk, a bed, a few photos, a poster and a string of twinkle lights," Andersen says. Look beyond the obvious college dorm essentials like a laundry hamper and supplies. "There are some specific requirements, so make sure your freshman has everything on the checklist provided by the school, like extra-long sheets." The Andersens did most of their shopping at large retailers with an online presence. "You don't have to pack it — they can have it waiting for you wherever your school is." Just buy it online and send it to an area store.
Decorator: Upgrade standard furnishings. Interior design expert Andie Day of SHIFT Legacy in Los Angeles suggests using the dorm-issued chair as guest seating only. "Splurge on an ergonomic desk chair that will have a 90-degree angle at your elbows, waist and knees. Make sure it sits 16 to 21 inches off the floor, the suggested height for average-sized people." And create more room with under-bed storage containers. "Anything you can push under the bed is always excellent, but this time it can be organized," she says.
Tip 3: Personalize your personal space
Student: Personalize your sliver of the shared space. Choose desk organizers and accessories in your favorite color, and decorate with images that inspire you. "Stick to one or two larger wall hangings, leaving yourself room to put up letters from friends or pictures from home," Merten says. Those notes and photos help ease homesickness.
Parent: "Don't try to make the room perfect on the first day," Andersen cautions. "They'll make the room their own by creating it over time. Besides, the real college essentials are already there: bed, roof, desk, friends, cafeteria and, of course, school. Think of all your own memories from college — they're probably not about your bulletin board."
Decorator: Make some magic. Hang a mirror or two to "make your room appear much more spacious," says Day. "And pick a striped rug to add the illusion of length and width."
Tip 4: Embrace the new chapter
Student: "Being away from home, it's natural for things to be a little difficult in the beginning," Merten says. "Even if you don't want to leave your door open and meet people on the first few days, make an effort to say 'hi' to people and learn names. It makes dorm life a lot more fun! Don't sweat the small stuff, and remember that this is a learning experience. If you keep an open mind, it's one of the best times in your life to learn and have new experiences."
Parent: "On that farewell weekend, parents were really eager to know that their kids would be in touch, while the kids weren't thinking about it that much," Andersen recalls. "But after two or three weeks in school, most kids will naturally want to establish some regular form of contact — a weekly phone call or whatever. They're independent, but not as independent as they think they are." And his advice for parents leaving their "babies"? "It's the old parenting trick — when you're focused on helping others through a difficult time, you won't have time to focus on how hard it is for you."
Use this advice to ease the transition to college life and establish a homey place on campus.
Margot Carmichael Lester is co-author of The Real Life Guide to Life After College, and owner of The Word Factory in Carrboro, NC. She frequently teaches resume- and cover letter-writing to college students. She's a graduate of the University of North Carolina at Chapel Hill (Go, Heels!). Follow Margot on Google+.
Related Articles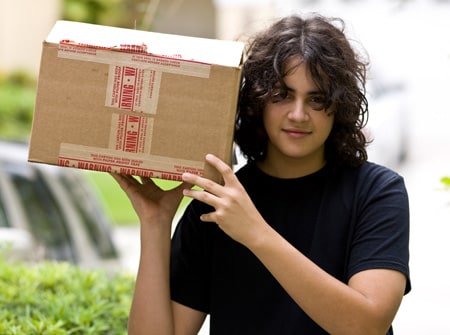 Freshman 15: Must-Haves for College
Heading off to college? Don't get overwhelmed with what to pack. Use this list of 15 must-haves for college freshmen. Read more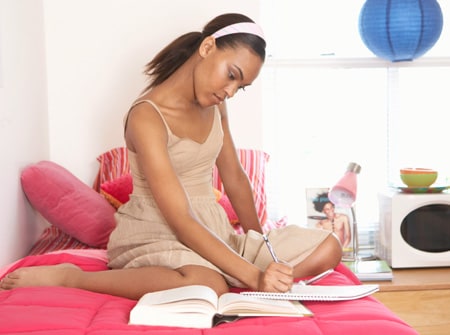 What to Pack: Your Back to College Checklist
Heading off to college? Use this checklist of college-dorm essentials to help keep track of the large and small things... Read more