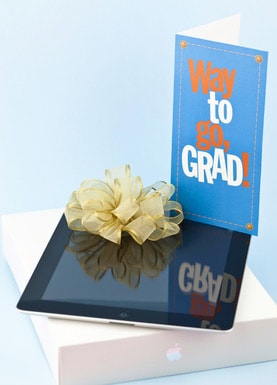 There's absolutely nothing wrong with traditional high school graduation gifts like fine writing pens or even cars. But with data showing that grads use technology more and drive less, we've compiled this list of new school graduation gift ideas.
Must-Have College Tech Gifts
"Students will often need multiple tools to build a dependable solution," says Matt Scully, director of technology for Providence Day School in Charlotte, NC. Here are some good ideas for must-have college tech:
Tablet: "It's much easier to read on an iPad — I use the Kindle app and have several textbooks on it," says Amy Hollingsworth, natural science biology lab coordinator at the University of Akron. It's also useful for collaborating with others or communicating with family via Skype or FaceTime. Don't forget the screen protector and smart cover to protect the device.
Bluetooth® Keyboard: Tablet users will appreciate a tablet-compatible keyboard to make typing easier. Choose one that's totally detached or that's included in the cover or case.
Stylus: If you just can't break with tradition, go ahead and give the new grad a writing utensil of the new school variety. These eWriters are great for tablet users.
Laptop: According to data from market research firm Student Monitor, 63 percent of student-owned computers are received as a gift or purchased by parents. "To ensure they are always connected and able to work, look for devices with long battery life and the right balance of weight to computing needs," says Peter Han, Microsoft® vice president of U.S. OEM. "Additionally, devices which feature a variety of ports and USB options for full connectability ensure students aren't 'up a creek without a paddle' when it comes to sharing files or presenting."
Flash Drives & Data Storage: Small flash drives make it easy to bring files to class or the library, and external hard drives provide safe storage for critical data and backups.
Earbuds or Headphones: Must-haves for dorm living, headphones let students listen to lectures or entertainment without annoying each other. Noise-canceling models also create a super-quiet environment for the wearer. They come in an array of colors so you can choose your grad's favorite hue. And if you really want to help your student play as well as work while at school, consider some Bluetooth speakers or a docking station for sharing tunes with new friends.
Power Supplies: If you're looking for practical high school graduation gift ideas, give the gift of power! "I always carry my charger with me to make sure all my devices will work," says Lydia Talen, a junior anthropology major at the University of North Carolina at Chapel Hill. Consider a power pack that contains a charging station, power strip, surge protector and portable USB charger. Another bright idea: Pack it all in solar backpack.
"College students often find themselves bouncing from class to class, with stops at the library and student center in between, perhaps not returning to their dorm room until after the day is done," Han says. "Look for [devices] built to handle the rigors of a college life — able to stand up to the repeated opening and closing and abuse that come from constantly being removed from and tossed back into school bags."
Dorm Room Gifts
Desk Lamp: Help your favorite grad avoid eyestrain with LED task lighting. "The long life of an LED bulb means [they] won't have to store extra bulbs in limited dorm space or worry about running out to replace," says Darlene Molnar, a Washington, D.C.-based specialist in interior decoration, space planning, interior styling and product design. "Select an LED task light with a slim base or one that clips to your desk or a shelf to save valuable desktop space."
Lock Box: Not the most exciting of high school graduation gifts, but a very important one. Students need to safeguard important items, like blank checks, emergency cash, passport, insurance information, birth certificate and Social Security card copies. Choose a vibrant color to match your grad's style.
Family Photos: "I love looking at pictures of the people I love, so I always hang up a lot of pictures around my room," Talen says. Print photos in different sizes and choose frames in complementary colors. Just skip the embarrassing snapshots! Add removable picture hangers (many dorms don't allow nails) and pushpins for an all-inclusive gift.
If none of these college tech and dorm room gifts grabs you, consider a gift card. "Gift cards of all kinds are greatly appreciated," says Janet McKean, a gifts industry consultant in Hillsborough, NC. You can choose plastic cards with all kinds of fun themes or send an eCard. "I love sending a gift card once students have settled in at school because there's always something they would love to add to their room or something they never thought they might need, like a small vacuum or another storage container."
Be sure to take advantage of convenient services, like buying online and sending it to a store, which allows you to ship the gift to your grad's home or college town so they don't have to pack it.
Don't Forget About the Graduation Party
Graduation time is a milestone for students, family and friends. Make the event special with custom graduation party invitations and announcements and decorate with banners and signs for your special graduate. These special pieces will become keepsakes and might even make it on the trip to college with your new freshman.