Making it easy to make a difference.

Eco-conscious products, services and initiatives.
Staples offers a wide selection of products and services that make it easy to help protect the environment. And through our green initiatives, we're working to help make the planet a healthier place to live.
Making a difference doesn't mean changing the way you work or live – or sacrificing quality. It's about making small, easy changes that can add up to a big impact.
The Staples EcoEasy icon
To make it easy for customers to shop green, we've showcased a large assortment of products with environmental features on our Staples EcoEasy site. These products include everything from refillable pens and pencils to green cleaning supplies and 100% post-consumer recycled papers. We recognize that our customers may have different definitions of what makes a product eco-conscious. That's why we always seek to detail the eco-features of our products so customers can decide which products meet their own definition of "green." For more information, see our guide to environmental icons and terminology
The Staples EcoEasy icon is used to identify a category of eco-conscious products that we believe demonstrate reduced environmental impacts compared to other products in their category. Use of the EcoEasy icon is based on an evaluation of the product's environmental features. Products that qualify must meet one or more of the following criteria:
Recycled content exceeds industry standard for the class of product
Remanufactured alternative
Has credible third-party certifications or meets such standards (ENERGY STAR®, Forest Stewardship Council, EcoLogo, GreenGuard and Green Seal)
Includes multiple environmental design elements that we believe lead to reduced environmental impacts compared to similar products in the category
Wherever possible, Staples uses available standards, guidance and certifications to identify products that qualify for Staples EcoEasy. However, the icon alone does not indicate that a product meets a specific third-party standard. As a company, we continue to review and modify the criteria used to identify EcoEasy products to ensure that they are based on sound science, are credible and reflect the current state of the industry.
Environmental Icons and Terminology
Icon
Description

Items identified as recycled contain material that has been diverted and recovered from the waste stream, including post-consumer content and pre-consumer recycled content.


The mark of responsible forestry
FSC – US – 0082
© 1996 Forest Stewardship Council A.C.

The Forest Stewardship Council (FSC) logo identifies products that support the responsible use of forest resources. This includes products made of wood from well-managed forests and/or containing post-consumer recycled content certified in accordance with the rules of the Forest Stewardship Council. Learn more at www.fscus.org.

The ENERGY STAR® mark identifies products that meet U.S. EPA and Department of Energy standards for energy efficiency. Learn more at www.energystar.gov.

GreenGuard certifies furniture products that result in reduced indoor air pollution. Learn more at www.greenguard.org

SCS Indoor Advantage identifies furniture that is designed to reduce indoor air pollution. Indoor Advantage Gold identifies products that meet even higher standards for reduced indoor air pollution. Learn more at www.scscertified.com/ecoproducts

Green Seal certifies products that are holistically designed to be environmentally responsible, including commercial and industrial cleaning products and copy & print paper. Learn more at www.greenseal.org

EcoLogo sets standards and certifies products that are eco-preferable across the entire product life cycle. Learn more at www.ecologo.org/en

The U.S. EPA DfE program identifies commercial cleaning and maintenance products with improved environmental and human health characteristics. Learn more at www.epa.gov/dfe

Cradle to Cradle™ is a certification program that certifies products to four levels (Basic, Silver, Gold and Platinum) based on product life cycle environmental impacts. Learn more at www.c2ccertified.com

EPEAT qualifies PCs, laptops and monitors to three levels (Bronze, Silver and Gold) based on a variety of different design elements including energy efficiency, toxics reduction and design for recycling. Learn more at www.epeat.net

The Biodegradable Products Institute (BPI) Compostable certification means that products meet ASTM D6400 or D6868 standards for biodegradability when composted. Learn more at www.bpiworld.org/BPI-Public

The Staples® EcoEasysm icon identifies products that Staples has determined to have a reduced impact on the environment compared to other products in their class based on their environmental design features.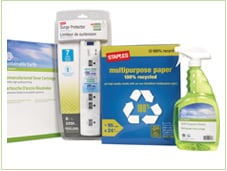 Products that make a difference
Staples offers more than 3,000 products to choose from.
A number of products made with recycled content, such as file folders, printing papers, toner cartridges, pens and furniture.
Choices that include environmental design features like packing peanuts made from cornstarch, notebooks made from sugarcane waste and solar-powered calculators.
Products that meet third party environmental certifications and standards, including FSC-certified paper, ENERGY STAR® qualified technology and cleaning supplies that meet EPA Design for Environment standards.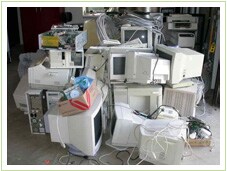 Services that make it easy to do the right thing
In store or online, we have a number of programs that can help you go green.
Easy office technology recycling
Ink and toner recycling that pays you back with Staples Rewards®
FREE handheld technology recycling
Carbon offset promotions
Standard FSC-certified, 50% recycled paper used at Staples Copy & Print locations for full-service black & white copies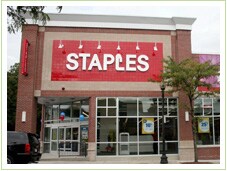 A company that shares your commitment to the planet
On the road, in our offices and everywhere in between, there are so many ways in which we're looking to lead the way in environmental stewardship:
Continued development of products with environmental features that are not only innovative, but meet our high quality standards, too
Continued development of eco-conscious products that are not only innovative, but meet our high-quality standards, too.
Education and solutions for our customers, such as online catalogs and resources, plus tools to educate employees about the importance of eco-conscious practices
Improvements within our day-to-day operations, such as our energy-efficient delivery fleet and logistics network, rooftop solar-energy systems and internal waste-reduction projects