Learn More About Our Selection of Tablets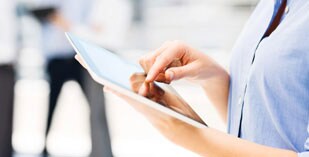 Staples offers all the hottest tablets. No matter what technology you're looking for, we have it! So get ready to take your work and entertainment on the go, with a portable device that suits your needs. Learn more about our assortment.
Amazon Kindle Fire HDX
The Amazon Kindle Fire HDX boasts faster app launch times, better overall performance, faster Web site load times and improved multi-tasking over previous-generation Kindles. It's powered by Fire OS 3.0, a.k.a. Mojito, which is based on Android and adds cloud services, Amazon's digital content, the live Mayday customer service feature and more. In addition, the HDX display brings together unsurpassed pixel density on a 7" tablet, perfect 100 percent sRGB color accuracy, exceptional brightness, and reduced glare and reflectivity for a superior viewing experience — all of this makes the Kindle Fire HDX a tablet that's built for work and play.
Apple iPad Air with Retina Display
The Apple iPad Air is just 7.5 millimeters thin and weighs just one pound, so it feels unbelievably light in your hand. It comes with a 9.7" Retina display, an A7 chip with 64-bit architecture, ultra-fast wireless, powerful apps and up to 10 hours of battery life. And with more than a million apps in the App Store just a tap away, this is one tablet that lets you do so much more with so much less.
Google Nexus 7
Built to bring you the best of Google in a slim, portable package that fits perfectly in your hand, the Google Nexus 7 features a 7" screen with a vibrant 1280 x 800 high-resolution display that's protected by scratch-resistant Corning glass. Extended battery life allows for more than 9 hours of HD video playback, 10 hours of Web browsing, 10 hours of reading and up to 300 hours of standby time so you spend more time doing and less time charging.
Microsoft Surface Pro 3
Weighing in at less than two pounds, with its 12-inch display and the Windows 8.1 Pro operating system pre-installed, the Microsoft Surface Pro 3 is a true tablet/laptop hybrid. Run virtually all the programs you need, including the entire Microsoft Office suite. A fourth-generation Intel Core processor makes the Surface one of the fastest tablets on the market, and with up to 9 hours of battery life, it lets you power through your day wherever you are.
Samsung Galaxy Note
Looking for a tablet perfect for keeping you and the family productive and entertained? The Samsung Galaxy Note 8, with its 8-inch screen, can do that and more, letting you control all aspects of your life, from scheduling to gaming and networking, right from the palm of your hand. Polish presentations, organize family events, and access social networks without missing a beat. The tablet even functions as a universal remote so you can control your entire home theater on one screen.
Shop our entire assortment of tablets, tablet accessories and protection plans now!