Must-Have eReader Accessories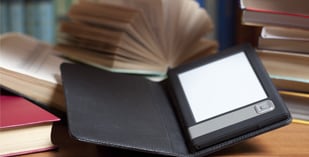 No eReader purchase is complete without some accessories to help you get the most out of your new device. You'll want to protect it from scrapes and drops with a fashionable cover or jacket, or add a clip-on light for reading under the covers. Accessories will bring your reading experience to another level and ensure you keep your eReader in good working order for years to come.
Covers & Jackets
Take your eReader with you and keep it safe with a cover or jacket. Choose from a variety of colors and styles, like the M by Staples eReader case in black leather or the M-Edge Latitude Jacket in red.
Booklights
If you find yourself reading in a dark place, you'll need a way to illuminate the screen so you can see the pages. Attachable lights do just that, allowing you to fine-tune the light's position and disperse the light uniformly.
Chargers
You might want to pick up a universal charger. It's compatible with most eReaders (many tablets and phones, too!) and will keep you powered up and reading for hours and hours.
Screen Protectors
Keep your eReader's screen fingerprint free with a clear cover that will protect it from smudges and blemishes. Your Surface stays cleaner and display requires less frequent cleaning Surface stays cleaner and display requires less frequent cleaningsurface will stay cleaner longer and the display will require less frequent cleaning.
Protection/Service Plans
You can't always protect your eReader from drops, spills and other accidents, but you can make sure that if any of those things happen — or if your device stops working for another reason —your tablet can be fixed or replaced. That's why you need a protection/service plan, like the ones we offer from SquareTrade.
Shop our entire assortment of eReaders, eReader accessories and protection plans now!