Tablet Buying Guide: Choosing a Tablet Just Got Easier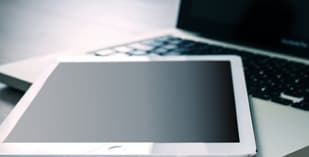 The world is more mobile than ever, and the best tablets allow you to balance business, personal and entertainment functions, right in the palm of your hand. So how do you sort through all the features when choosing a tablet? Here's everything you need to know.
Why a tablet might be right for your business
Tablets provide many of the features your computer does, just in an ultra-portable format. Create and modify documents with Microsoft® Office apps. Add a wireless keyboard accessory for easier memos or note taking at conferences. Wi-Fi and 4G network access let you videoconference and deliver presentations using programs like WebEx.
You can also interact with customers and clients in a more engaging manner. After your sales pitch, close the deal with a mobile credit card reader. Collect instant feedback with a survey app, or have customers add their contact information for your mailing list. They may not completely replace your computer, but tablets are indispensable for many businesses.
Choosing an operating system
Each tablet operating system has its own strengths, depending on what you need. Here are three of the biggest players:
Apple® iOS

The iPad® features the same operating system as iPhones and iPods, so they work together seamlessly. Sync videos, contacts, photos and apps across your Apple devices with little effort. The clean interface starts up instantly and is highly intuitive, making the iPad perfect for both heavy tablet users and novices alike.

The Apple iTunes app store has almost a billion free and paid apps, with more than a third of these customized for the iPad, so you can manage everything from bookkeeping to home security to travel from just about anywhere.

Android™

Google's operating system powers devices from several manufacturers, including Samsung® and Amazon's Kindle. Most Android tablets sync with Google's tools and services, so you can sign in with your Google™ account and your photos, emails, contacts, bookmarks and Google Play™ purchases are ready to go. Android also allows easy multi-tasking and features a customizable home screen, rich notifications, resizable widgets and deep interactivity. Another plus? Android offers support for multiple user logins, so you can share your tablet with a friend or family member without worrying about giving them access to your private information.

Just keep in mind that Android isn't the same everywhere. It's open source software, so manufacturers can create different versions of Android for different devices, some with more features than others. For example, Fire OS Mojito, the exclusive version used only on the Amazon Kindle Fire, is so highly customized for Amazon that it's barely recognizable as Android (it's not even compatible with apps found in the Google Play store).

Windows

Microsoft® positions its tablets as mini PCs. In fact, some Microsoft Surface tablets run full-fledged versions of Windows 10. These Windows-running tablets are known as "convertibles," since they function almost as well as laptops as they do tablets. Users can easily switch back and forth between using the Surface as a laptop and a tablet when a keyboard accessory is attached. Throw in bigger screens, laptop-grade processors and docking stations, and you have some pretty robust machines.

Windows 10's crisp, tiled touch interface makes using apps and socializing easy. The Windows App Store offers thousands of apps, and Microsoft's cloud services let you access your files from anywhere. (For the more cost-conscious who don't need all the bells and whistles, Windows RT is a more limited version of the same operating system.)
Tablets are made for mobile
All tablet models come with built-in Wi-Fi connectivity, so they're ideal for going wherever you do. They'll work just fine in Wi-Fi hotspots, like your home or office. But if you'll be on the go a lot and need to access the Internet in places where Wi-Fi networks aren't available, try choosing a tablet with built-in cellular functionality, just like your cell phone. These devices are more expensive, not including the monthly cell service charge, but if you're a power user or frequent traveler, it's worth the upgrade.
The importance of screen size
Screens typically start at a modest 7" display and go up to about 12" (measured diagonally). The weight is generally less than 1.5 pounds. That means carrying a tablet around is about as easy as carrying a folder filled with important documents would be.
While smaller devices offer amazing portability, consider how you'll use your tablet before making a decision: Larger displays are better for browsing the Internet, conducting video calls or working on documents. And watching HD movies is always better on a bigger screen.
How's it look?
Tablet manufacturers often brag about impressive screen resolution. But that's not the whole story. Tablets feature LCD screens, which use a light source placed behind the image. So when you look at a tablet screen, you're essentially looking directly into the source of light. That's great if you read in the dark or in an area with low light, but it's not so good if you're sitting in bright sunlight. If you're planning to use your tablet for say, reading the latest business best seller at the beach, you may want an eReader that's not backlit.
Two cameras are better than one
Most tablets now come with back- and front-facing cameras, allowing you to take high-res photos and conduct video calls. Just remember that the back camera will have higher resolution (read: more megapixels) than the front camera, so pictures taken with the back camera will be sharper.