U.S. Gender Diversity
Salaried Associates
Hourly Associates
Combined Salary and Hourly Totals
Salaried Associates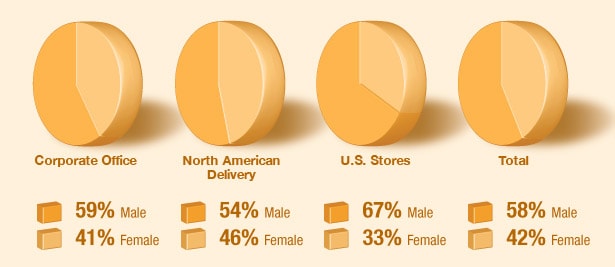 Hourly Associates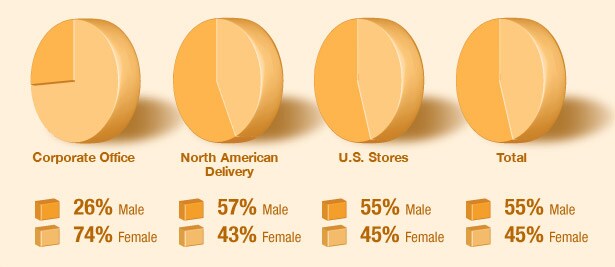 Combined Salary and Hourly Totals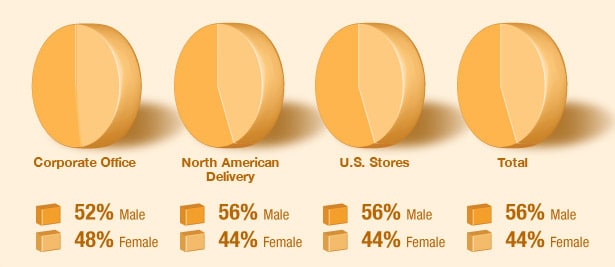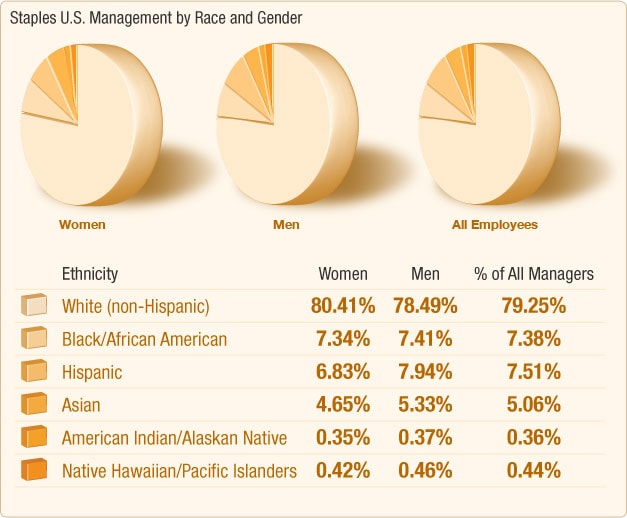 Our 2012 Inclusion & Diversity Strategy
Our workforce diversity strategy in 2012 was centered on creating greater opportunities for inclusion in the workplace. This strategy tactically focused our efforts in three key areas:
Awareness
Associate Resource Groups
Mentoring
Awareness
For years, Staples has shown its commitment to diversity and inclusion. Yet in many parts of our organization, associates may have been unaware of the wonderful work and tremendous accomplishments we"ve made in this area. To create greater awareness, we developed a robust communication plan to educate/re-educate our associates about the Staples definition of diversity and inclusion. We strongly believe that diversity is no longer just a nice-to-have, but a business imperative. We shared our business case with our associate population – recounting many of our successes but also being candid about the challenges we face. Our call to action for increasing the spirit of inclusion at Staples has resulted in the greatest number of associates personally engaged in our efforts than ever before in our company"s history.
Our new Values rollout also highlighted the sense of personal accountability to help build a more inclusive and diverse environment. A great online awareness workshop was developed by our Learning and Development team and will now become a required course in our new hire onboarding program.
Taking the time to "tell our story" has paid dividends beyond our expectations. People are talking about diversity, and that"s a great thing!
"Business Woman of the Year" recognizes talented women at Staples
One specific awareness initiative is our "Business Woman of the Year" contests, which are intended to recognize and appreciate the talented women at Staples who positively impact our company, our customers and our communities. As well as focusing on leadership development for all our associates, we are conducting initiatives such as this to help address the current under-representation of females in management. Staples expanded on the very successful gender diversity initiative first launched in Australia and New Zealand in 2010 to include the U.S. and Canada. The program has been a great success for all female participants and has contributed to an increase of women in leadership roles.
Staples Argentina Volunteers for Inclusion
Staples associates in Argentina spent a day working for a cause they deeply care about: empowering those with disabilities. For this event Staples partnered with CILSA, an organization working for the inclusion of people with disabilities who face financial hardships. More than 40 Staples associates, including Ewan McCulloch, Vice President HR, hosted an educational day and helped in giving away 35 wheelchairs.
Throughout the day, associates welcomed the beneficiaries and their families, delivered the wheelchairs, and participated in the training workshops, during which CILSA explained the rights of persons with disabilities. The day concluded with a speech from a Director in Staples Argentina, Carlos Nielsen, and with a performance from the renowned Argentine singer-songwriter Coti Sorokin.
Staples Argentina's commitment to the inclusion of people with disabilities began more than four years ago, with the hiring of blind people to the sales force, and with the recent hiring of people with intellectual disabilities to Staples stores. These important steps help to make Staples more diverse and dynamic.
Associate Resource Groups (ARGs)
Associate Resource Groups (ARGs) are a formal community of committed associates who support Staples business results, our global diversity strategy, community involvement and associate engagement. ARGs are a tremendous asset for any associate seeking to develop strong networks and hone their professional skills. At the same time, these communities provide a mechanism for Staples to more deeply engage with associates and, in turn, increase the retention rates of diverse employees. ARGs also serve as important tools for the business, helping Staples to gain insights into our diverse customer segments. ARGs offer members mentoring, skill development and internal and external networking opportunities. Group members themselves identify, select and pursue those activities they view as priorities.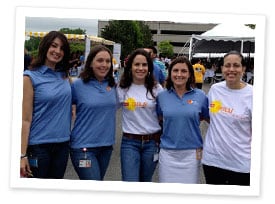 Proudly, Staples grew our ARG network from eight chapters to twelve. In addition to these chapter expansions, we created and launched internal community pages and email lists that allow any associate the ability to join the ARG(s) of their choice, regardless of work location. This remote access was a huge win for us in our effort to have a more inclusive workplace. In addition to the existing ARGs listed below, we plan to launch a Military Veterans ARG in 2013 and continue to launch chapters in various locations throughout the world.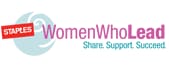 Women Who Lead (Women) – U.S. (Massachusetts, Florida), Canada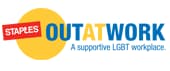 Out At Work (LGBT Lesbian, Gay, Bisexual, Transgender and Allies) – U.S. (Massachusetts)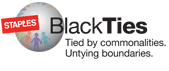 BlackTies (Black and/or African American) – U.S. (Massachusetts)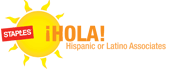 HOLA (Hispanic or Latino) – U.S. (Massachusetts, California)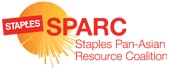 SPARC (Asian and Pan-Asian) – U.S. (Massachusetts)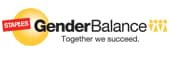 Gender Balance – the Netherlands
HOLA Celebrates Hispanic Heritage Month
To celebrate Hispanic Heritage Month, HOLA (Hispanic or Latino Associates) held several events that celebrated Hispanic culture, raised awareness and supported Staples® diversity and inclusion efforts. The month kicked off with a cultural fair where HOLA members educated fellow associates about their respective countries. It was a lively, colorful day filled with historical facts, native attire, local cuisine and loads of fun!
HOLA also hosted a viewing of HBO's documentary The Latino List, which consisted of 16 short interviews featuring successful and prominent Latinos ranging from Justice Sonia Sotomayor to Eva Longoria. The film is an "ongoing exploration of who we are, where we come from and what it means to be a Latino in the United States today," says narrator and interviewer Maria Hinojosa (source: HBO Latino).
Hispanic Heritage Month concluded with a live Latin band, Curubande, playing salsa and merengue for all to enjoy. Many HOLA members led by HOLA's own salsa instructor, Daniel Narcisse, conducted a live salsa dancing demo for all attendees to enjoy!
Women Who Lead Framingham Dress for Success Clothing Drive
The Women Who Lead Resource Group held their third annual clothing drive to benefit the Dress for Success organization in which associates had the opportunity to clean out their closets for a great cause, network with colleagues, and get some great bargains on women's business clothing. Many took advantage of Clarins beauty experts on site offering mini-makeovers.
The successful event raised nearly $3,000 and more than 1,200 pieces of clothing to benefit Dress for Success. As a result of the great effort and response, Staples received the Ultimate Drive Award: demonstrating exceptional commitment to volunteerism by helping with a special project or ongoing activity for Dress for Success Worcester. Staples is proud of the great work by our Women Who Lead Associate Resource Group.
Women Who Lead Florida helps drive spirit of inclusion!
In an effort to promote a more inclusive work environment, associates throughout Central Florida gathered in the Maitland Telesales Center to kick off the One Staples Career Day.
This collaborative event provided an internal knowledge exchange and networking opportunity for 70+ associates from our various business units. Throughout the morning, these associates rotated throughout the business unit stations and gained a deeper understanding of the vast opportunities available within Staples. The feedback was phenomenal. One associate wrote:
"It was almost even motivational to see how many different options we have for advancement within the company. It was nice to see the different areas we have throughout the building and Orlando area, and find out what they actually do. It was also nice to meet people you see every day in the building and don't know what they do."
BlackTies ARG helps to feed the hungry
A dedicated group of BlackTies associates spearheaded Staples' efforts to help feed people in their own backyard. Working at the Worcester County Food Bank in Shrewsbury, MA, this team loaded over three pallets of food that were shipped to various shelters and food pantries to help feed those in need.
Since that first visit, Staples has had over 120 associates from across all departments volunteer on a monthly basis. One associate commented, "We know that taking care of those in our community is the right thing to do — these people are our neighbors, our customers and, in some cases, our families."
Staples is proud that our diverse ARG teams are dedicated to bringing value to the communities in which we work and live.
SPARC (Staples Pan-Asian Resource Coalition) proudly displays their culture
In 2012, SPARC hosted its second annual Lunar New Year and Diwali (The Festival of Lights) Celebrations at the Home Office in Framingham, MA. Held in late January, the Lunar New Year Celebration featured a traditional lion dance performance as well as a martial arts demonstration. The Diwali Celebration took place in early November and treated the audience to a Bollywood-style "dance drama" by the SPARC Young Professionals Dance Troupe, a children's dance performance by the SPARC Kidz Dance Troupe, and a vocal performance of various songs from India. Both events were very well-received and attendance was high.
Mentoring
Staples believes that mentoring relationships create a better company-wide understanding of diversity issues and expose leaders and associates alike to new ways of thinking and acting. Staples has grown the number of associates involved in mentoring relationships exponentially over the past year. We've expanded our program, which originally paired senior leaders with high-performing female and ethnically or racially diverse associates, to now be more inclusive of other associates committed to personal and professional development. Our formal program, Mentoring Made Easy, began development in 2012 and will roll out officially in 2013. It supports our retention and engagement strategies as well as providing a vehicle to develop our internal capabilities, cultural competence and leadership skills.
In addition to Mentoring Made Easy, Staples International will continue our Women's Mentoring Program aimed at assisting women in mid-management move up in the organization by overcoming any barriers that might exist when progressing into more senior management positions.
Women's mentoring program gains momentum
In 2012, Staples International continued the International Women's Mentoring Program, aimed at allowing our associates new development opportunities with the support of mentors from our senior management team. 15 women participated in the initial test launch of the program in 2011, whose success saw the program continue through 2012 with a further 15 female associates taking part. One of the central aims of the program is to assist women in mid-management move up in the organization and overcome any barriers that might exist when progressing into the higher management positions of the company. By helping mentees to perform within our current working culture and practices, we hope to increase the number of women at the top of Staples and be more representative of our customers and society as a whole, thus producing a more dynamic working culture for the future. By allowing our senior management team to work closely with women mentees and develop emerging talent, we also create a better company-wide understanding of diversity issues and expose management to new ways of thinking and acting.
Diversity Alliances
Staples is a member of and supports a wide range of diversity-focused professional organizations. For example, we have been a member of the MetroWest Alliance for Workforce Diversity (MAWD), an organization local to our Massachusetts headquarters, for seven years.
As part of its activities, MAWD:
Facilitates the sharing of best practices, mentoring and coaching among member organizations
Helps member organizations hire and retain diverse candidates
Supports the assimilation of diverse employees and their families into the community
One of our Human Resources associates currently serves on the MAWD's board of directors, and we have hosted MAWD meetings and supported its diversity job fairs and other events.
Staples also has an ongoing relationship with Simmons College for Women in Boston, MA. Staples associates regularly attend professional development conferences and other events for working women at the College.
In addition, through our partnership with Bottom Line, a Boston-based organization that helps disadvantaged youth get into and graduate from college, Staples participates in and sponsors various events including career fairs and mock interviews. In addition, a member of Staples' recruiting team serves on an advisory board for the organization. We have also established a process for considering Bottom Line students for employment in our stores.
Diversity-oriented philanthropy
Much of Staples' and Staples Foundation's philanthropy is dedicated to disadvantaged youth, regardless of ethnicity, but with a special emphasis on diverse populations, including